Box Score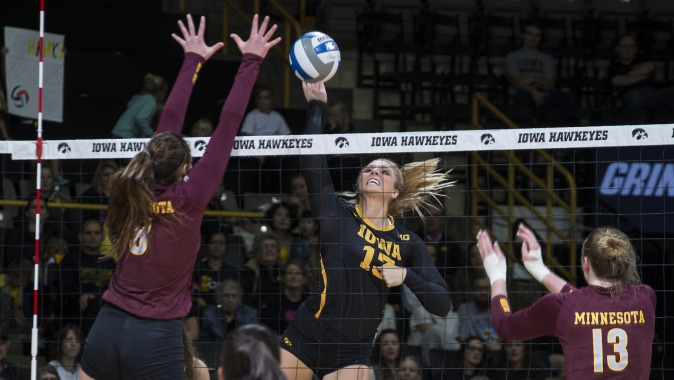 Nov. 4, 2015
BLOOMINGTON, Ind. — The University of Iowa volleyball team registered its second straight Big Ten victory with a 3-0 win over Indiana on Wednesday night. The Hawkeyes improve to 12-14 on the season and 2-11 in Big Ten action with the win.
"We really wanted to come here and stick it to them," said UI head coach Bond Shymansky. "I thought we did a good job of being relentless with that. I'm so proud of our group. We were really consistent, and we had really nice balance from our entire team."
The Hawkeyes came out firing in the first set, registering a .250 attack percentage and 15 kills. Iowa used kills by juniors Ashley Mariani (1) and Lauren Brobst (2), and a Reghan Coyle service ace to take an early 4-1 lead. They never trailed from there. Indiana recorded a late five point swing to pull within two (16-14) and force an Iowa timeout. After the break, the Hawkeyes used a pair of Indiana errors and two-straight points from senior Mikaela Gunderson (solo block, kill) to extend their lead and eventually win the set 25-19.
Indiana used a 7-1 run to take a 12-9 lead in the second set and force an Iowa timeout. The Hawkeyes battled back, however, tying the set at 14. After a back-and-forth battle, Iowa capitalized on three Indiana errors and two aces by junior Loxley Keala to establish distance and win the set, 25-21.
Iowa never trailed in the third set. The Hawkeyes used back-to-back aces by Mariani to get out to a 3-0 lead and never looked back. Brobst registered five kills in the set, while Keala dished out eight assists and added a pair of blocks.
Brobst and sophomore Jess Janota led the Iowa offense with 11 kills apiece, while Keala dished out a team-leading 33 assists. Freshmen Molly Kelly and Libby Koukol paced the Hawkeye defense, each recording 12 digs. In her first career start, Coyle, a freshman, registered a career-high six kills.
The Hawkeyes recorded 11 service aces in the match. Keala led the way with four — a new career high — while Mariani added three.
"The defense was beyond scrappy," said Shymansky. "We left a lot of skin out there on the floor. We just kept balls alive that I haven't seen us keep alive yet this season. Our group has clearly not given up. Tonight we played great, and we were able to come out with a three-set victory."
The Hawkeyes return to action Saturday, traveling to West Lafayette, Indiana, for a contest against No. 16 Purdue.
| | | | |
| --- | --- | --- | --- |
| Iowa at Indiana | 1st | 2nd | 3rd |
| Iowa (12-14, 2-11) | 25 | 25 | 25 |
| Indiana (13-12, 3-10) | 19 | 21 | 20 |
Statistical Leaders
Kills: JanotaBrobst (IOWA) 11 | Anderson (IU) 11
Assists: Keala (IOWA) 33 | Tallman (IU) 26
Digs: Kelly/Koukol (IOWA) 12 | Harnish (IU) 13
Blocks: Keala (IOWA) 3 | Nwaeze (IU) 5