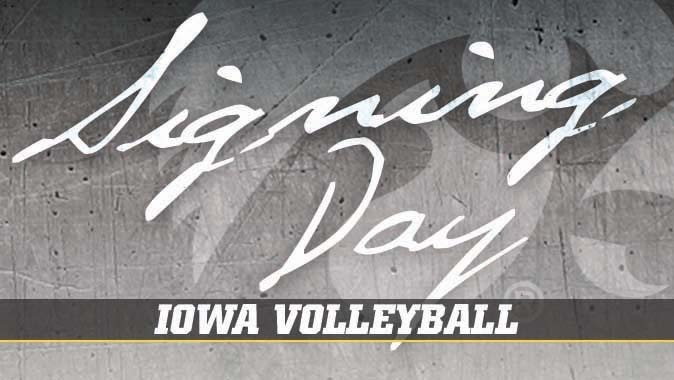 Nov. 19, 2015
IOWA CITY, Iowa — Four prep standouts — Cali Hoye, Sandra Mohr, Alexa Ito, and Emily Bushman — will join the University of Iowa volleyball program next fall, head coach Bond Shymansky announced Thursday.
Volleyball Recruiting Class
Name
Ht.
Pos.
Hometown (High School)
Sandra Mohr
6-4
MB
Waterford, Wis. (Muskego)
Cali Hoye
6-1
OH
San Clemente, Calif. (San Clemente)
Alexa Ito
5-5
DS
Davenport, Iowa (Bettendorf)
Emily Bushman
5-8
DS
Naperville, Ill. (Naperville North)

Sandra Mohr — 6-4, Middle Blocker, Waterford, Wisconsin
Mohr is ranked No. 37 overall and No. 8 as a middle blocker on Prep Volleyball's Senior Aces list. She was invited to attend the USA High Performance Holiday Camp in four consecutive seasons (2011-14) and the USA High Performance A1 Team in 2012 and 2013. Mohr is a four-year varsity starter for Muskego High School under head coach Karen Anderson. She is a two-time second team all-state honoree, and a 2015 first team all-conference selection. She helped her team to a conference championship in 2013, and a runner-up state championship finish in 2014. Mohr holds three state tournament records, including block assists in a three-set match (20), block assists in a five-set match (12), and total blocks in a five-set match (12).
Mohr plays club for Sports Performance Volleyball Club under head coach Rick Butler. She was named to the Phenom List and the JVA All-National Team in 2013 and 2014. Mohr helped her team to a 2015 AAU 18 Open National Championship, and a second-place finish at the 2015 AAU World Championships.
A multi-sport athlete, Mohr has also competed in figure skating, synchronized skating, and recreational show waterskiing.
Shymansky on Mohr:
"Sandy is a dominating force at the net as a blocker and a physical force on the ball as a hitter. We have known and recruited Sandy since the eighth grade, and she has continued to develop and improve her game. There is no doubt that at 6-4 Sandy will live up to her Fab 50 billing. She has the skill set and drive to compete in the Big Ten and I know she is ready for that challenge. Sandy is fluid and fast as a slide hitter, and adds much needed size to our block at the net. Most of all, Sandy is a fantastic person and has strong character and a deep work ethic."

Cali Hoye — 6-1, Outside Hitter, San Clemente, California
Hoye is a two-time South Coast League Champion out of San Clemente High School under head coach Tom Beard. The outside hitter was the South Coast League MVP, an all-country honorable mention honoree, and a Max Preps/AVCA Player of the Week recipient as a junior. Hoye also earned Soph 79 honorable mention honors in 2013 and Frosh 59 honorable mention accolades in 2012. A four-year varsity athlete, Hoye has led her team in kills in each of the past four seasons.
Hoye plays club for the Laguna Beach Volleyball Club under head coach Michael Soylular. She helped her team to a NE Philadelphia Junior National Qualifier Championship and the Southern California Junior National Qualifier Championship in 2014. Hoye was also named to Prep Volleyball's Las Vegas Dream Team in 2015.
A multisport athlete, Hoye currently holds the high jump record at San Clemente High School. She also excels in the classroom, earning the scholar athlete award in 2012 and 2015.
Shymansky on Hoye:
"Cali Hoye is a long and athletic outside hitter. She is a complete player and is skilled in the front row and back row. Cali is a cool and steady competitor, and she knows how to lead her team to victory. She has worked hard to develop her all-around game and continues to impress me with her range, her reach, and her resilience. Cali is an easy going and open minded person and will make a great teammate. It is awesome that we are able to draw top level talent from California all the way to Iowa. It says a lot for the strength of our program, university, and conference. We expect her to compete right away for a position on the court as we continue to build a championship team with championship-caliber players like Cali."

Alexa Ito — 5-5, Defensive Specialist, Davenport, Iowa
Ito is a 2015 first team all-conference selection out of Bettendorf High School under the direction of Diane Lichtenberg. She was named an Iowa Girls' Coaches' Association All-Star and an Iowa vs. Illinois Girls High School All-Star as a senior. Ito helped her team to a state championship in 2013, a state runner-up finish in 2014, and three-straight conference championships (2013-15).
Ito plays club for Platform United under head coach Sarah Fetter. The Davenport, Iowa, native helped her club team to a fifth-place finish at nationals in New Orleans, and a second-place finish at the President's Day Classic in St. Louis, Missouri.
Ito also excels in the classroom. She is a member of the National Honors Society, a three-time academic letter recipient, a two-time winner of the Iowa Girls High School Athletic Union Excellence in Academic Achievement award, and a MAC all-academic team honoree in 2014.
Shymansky on Ito:
"Alexa Ito is a stellar back row passer and defender and has been trained in one of the best high school programs in the state of Iowa. Winners know how to win, and Alexa has been a big part of a significant winning tradition. She has quick feet, a strong platform, and is willing to put in sweat equity to be the best. We look forward to adding her to our talented group of back row players next season."

Emily Bushman — 5-8, Defensive Specialist, Naperville, Illinois
Bushman is a two-time all-conference selection out of Naperville North High School. She earned all-area recognition and her team's MVP award as a senior. Bushman is a two-time FIGHT Award (Intensity, Guts, Hardwork, and Teamwork) recipient. As a three-year varsity athlete, Bushman helped her team to a pair of regional (2013, 2015) and conference championships (2013, 2014). Her name is etched in the Naperville North High School history books for the second-most digs in a career.
Bushman plays club for Sports Performance under head coach Rick Butler. She helped her team to three ninth-place finishes at AAU Nationals for U15, U16, and U18.
A standout student, Bushman is a three-time academic all-conference honoree. The Illinois State Scholar, earned the six semester 4.0 award, and is currently on the high honor roll.
Shymansky on Bushman:
"Emily Bushman has fantastic back row skills and is a tenacious trainer. She is always hungry for reps, ready for work, and puts it all out on the floor. She led her team to a strong finish in high school and club this past season and we are counting on her to add more depth and dimension to our strong back row unit next season."