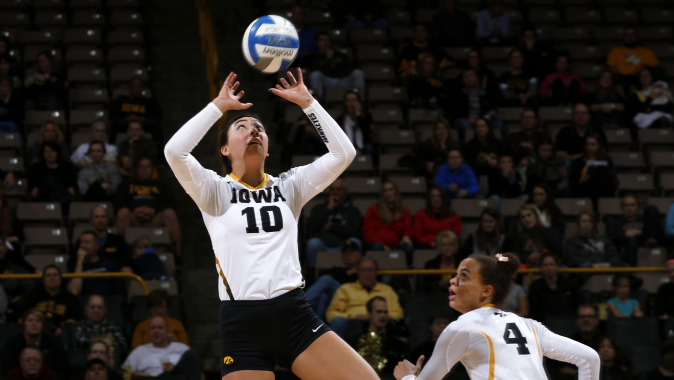 Nov. 23, 2015
Editor's Note: The following first appeared in the University of Iowa's Hawk Talk Daily, an e-newsletter that offers a daily look at the Iowa Hawkeyes, delivered free each morning to thousands of fans of the Hawkeyes worldwide. To receive daily news from the Iowa Hawkeyes, sign up HERE.
By BRANDEE BRITT
IOWA CITY, Iowa — In volleyball, the setter is often called the quarterback of the court. If that's the case, the University of Iowa volleyball team may have found its Peyton Manning.
It didn't take junior transfer Loxley Keala long to etch her name into the Hawkeye record books. In fact, it only took 27 matches.
On November 7, Keala became the ninth student-athlete in UI volleyball history to surpass 1,000 career assists. Her current total of 1,147 ranks eighth on the program's all-time assists list.
"It is a real honor to achieve something like that," said Keala. "I feel honored to be a part of this program, and I'm happy that I could do it for this team and University."
While the 1,000 career assists milestone is an individual accomplishment, the team captain is quick to recognize her teammates for making it all possible.
"I could not have done it without the help of my teammates," Keala said. "Without great passes, great defense, and our hitters putting it away, they are just sets. They don't become assists until someone else does their job. That's the beauty of the setting position. It's a team effort."
Keala has started every match (31) and every set (105) as Iowa's setter this season. She has registered 50 or more assists seven times, including a career-high 64 against Michigan on Oct. 7.
It didn't take her long to get used to Carver-Hawkeye Arena, either. In her first three home matches, Keala posted 154 assists to lead her team to the Comfort Suites Challenge title with historic wins over Iowa State — the first for the program since 1997 — and No. 25 Texas A&M. She earned Big Ten Setter of the Week honors following her performance, becoming the first Hawkeye to earn a weekly award since Bethany Yeager in 2013.
For Keala, the setter position is a natural fit, and its demands complement her strengths.
"Setting is exhilarating," said Keala. "I love being the one that is in complete control of what's going on. I think my personality and competitive nature match the position. I love setting it up for my teammates, and giving them opportunities to succeed. That's the best part of the position."
UI assistant coach Danielle Carlson says Keala's competitive nature and will to succeed is evident whether she's competing against an opponent in a match or her teammates in practice.
"Loxley is a fierce competitor that puts her whole heart into the game," said Carlson. "She is always eager to learn what she can do better for her team and how she can out-smart her opponent. Loxley serves as a great team captain; leading with her passion, gamesmanship, and technique. "
While Keala is already in elite company in the record books, she has her sights set on accomplishing what only two other Iowa volleyball teams have.
"We might not have met our goal of making the NCAA Tournament this year, but I know we have a great chance to be in a position to get in next year," said Keala. "I want, more than anything, to make the NCAA Tournament here at Iowa. That would be huge for the program and university, and it's something I want to do with my teammates."
Iowa hosts Northwestern in its home finale tonight on Mediacom Court inside Carver-Hawkeye Arena. First serve is set for 7 p.m. (CT) and the team's three seniors will be honored prior to the start of the match.