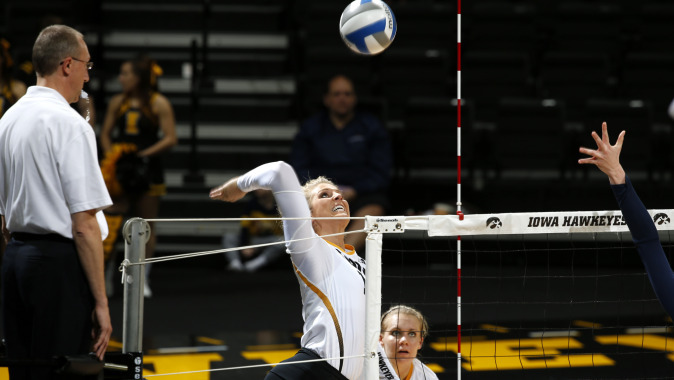 Nov. 28, 2015
Editor's Note: The following first appeared in the University of Iowa's Hawk Talk Daily, an e-newsletter that offers a daily look at the Iowa Hawkeyes, delivered free each morning to thousands of fans of the Hawkeyes worldwide. To receive daily news from the Iowa Hawkeyes, sign up HERE.
By BRANDEE BRITT
IOWA CITY, Iowa — University of Iowa senior Mikaela Gunderson may be small for a Big Ten Conference middle blocker, but she hasn't let it stop her from making a big impact on the University of Iowa volleyball program.
After spending two seasons at Wisconsin-Green Bay, the six-footer followed associate head coach Michaela Franklin to Iowa. Since then, she has sparked the program's rebuild with her presence at the net.
"She's an undersized player battling amongst the giants, but she keeps putting up huge numbers," said UI head coach Bond Shymansky. "She plays hard and scores so well, and she's only been in this league for two years."
In 63 matches (217 sets) for the Hawkeyes, the Casco, Wisconsin, native has etched her name into the UI record books. She owns the record for blocks in a four-set match (nine), and if the season ended today she would own another.
With 336 kills in 801 attempts and just 99 errors, Gunderson's career attack percentage stands at .296 — a mark that is 18 points higher than the current school record (Alessandra Dietz, .278, 2014).
"Leaving my name in the Iowa record book is such a great honor," said Gunderson. "Coming in, I was striving to be the best I could be, and I had goals of setting records. To be able to say that I accomplished that is something I'm proud of."
Gunderson currently leads the team with a .337 attack percentage — the ninth-best average in the Big Ten — and a 0.80 blocks per set average. Goals of reaching the NCAA Tournament fell short this season, but the team captain is proud of what the Hawkeyes have started.
"Being a part of this program shift has been special," said Gunderson. "It means so much to me because I feel so much pride when I put on the Hawkeye jersey. There are so many people behind us in the community, within the athletics department, and on the coaching staff. Their support has been amazing.
"Looking back 10 years from now, I'll be able to say that the success of the program was something this team got started."
While her student-athlete career is coming to an end, Gunderson is thankful for her time with the Hawkeyes.
"I'm grateful that I had the opportunity to become a Hawkeye," Gunderson said. "Coming to Iowa was the best decision I have ever made."
Her coach is thankful, too.
"We are sure glad she chose to be a Hawkeye," said Shymansky. "She has continued to put forth great effort and work ethic. She's a go-to hitter for us, and we are going to miss her greatly next year."
Iowa closes out its season today, facing Michigan State in East Lansing, Michigan. First serve is set for 7 p.m. (CT).