Box Score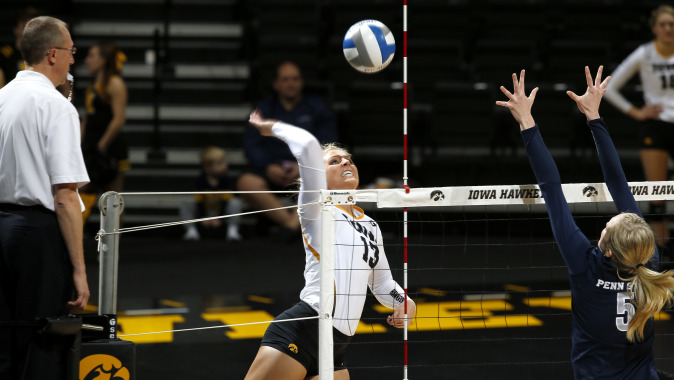 Nov. 28, 2015
Box Score

EAST LANSING, Mich. — The University of Iowa volleyball team dropped its season finale to Michigan State, 3-0, on Saturday night at the Jenison Field House. The Hawkeyes end the 2015 season with a 12-21 overall record and a 2-18 mark in Big Ten action.
"We had so many great moments this year," said UI head coach Bond Shymansky. "We had a lot of highlights, but not a lot of Big Ten wins to go with it. I'm proud that we were able to get top 25 wins and beat Iowa State for the first time in 18 years. That was a good boost for our kids and our program."
In her final match in a Hawkeye uniform, senior Mikaela Gunderson broke Iowa's career attack percentage record. Gunderson's career percentage stands at .294 (339 kills, 810 attempts, 101 errors), breaking the former record of .278 (2014, Alessandra Dietz) by 16 points.
"Gunderson's percentage is so impressive considering the level of competition she played against," said Shymansky. "Big things come in small packages, and she put up big numbers for us every night. I'm so pleased with her and our other two seniors as well. They have provided great leadership for our program, and I know they are going to continue to be Hawkeyes. Once a Hawkeye, always a Hawkeye."
The Spartans used an 8-0 run to establish a lead in the first set and never looked back. Michigan State used a .296 attack percentage and four service aces to win the set, 25-13.
Michigan State got out to an early lead in set two and never lost it. The Spartan offense stayed hot, registering a .379 attack percentage to win the set, 25-19. Sophomore Jess Janota and freshman Reghan Coyle recorded four kills apiece for the Hawkeyes.
The Spartans opened set three with an 8-2 run to establish a lead. They held on to it from there, using a .440 attack percentage and four team blocks to win the set 25-16. The Hawkeyes rallied to pull within two points twice, but could not slow the Spartan momentum.
Coyle led the Iowa offense with nine kills, while junior Loxley Keala dished out 25 assists. Sophomore Annika Olsen paced the defense with 11 digs, while junior Lauren Brobst and Janota each registered two blocks.
| | | | |
| --- | --- | --- | --- |
| Iowa at Michigan State | 1st | 2nd | 3rd |
| Iowa (12-21, 2-18) | 13 | 19 | 16 |
| Michigan State (18-13, 10-10) | 25 | 25 | 25 |
Statistical Leaders
Kills: Coyle (IOWA) 9 | Reinig (MSU) 11
Assists: Keala (IOWA) 25 | Minarick (MSU) 31
Digs: Olsen (IOWA) 11 | Muir (MSU) 10
Blocks: Brobst/Janota (IOWA) 2 | Thompkins (MSU) 5