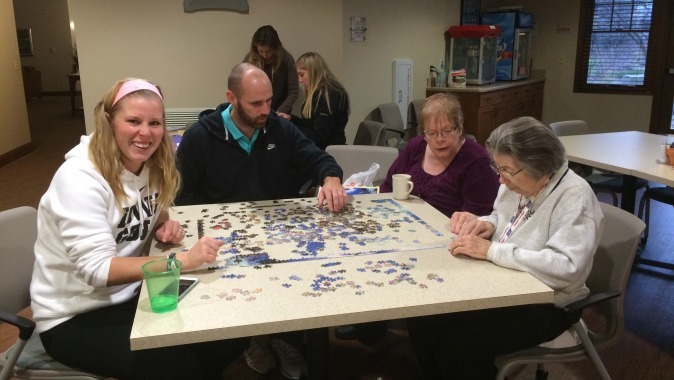 Editor's Note: The following first appeared in the University of Iowa's Hawk Talk Daily, an e-newsletter that offers a daily look at the Iowa Hawkeyes, delivered free each morning to thousands of fans of the Hawkeyes worldwide. To receive daily news from the Iowa Hawkeyes, sign up HERE.
By SAM STYCH
hawkeyesports.com
IOWA CITY, Iowa — The University of Iowa men's and women's golf teams don't have to go far to give back this holiday season.
The Hope Lodge, nestled in a wooded area near the Ronald McDonald House and Carver-Hawkeye Arena, is a place that both golf squads pay visits to throughout the year. That's no different this holiday season.
Opening in 2008, the Iowa City Hope Lodge houses 28 guest rooms and several shared lounge areas, and offers a free place for cancer patients and their caregiver to stay while undergoing treatment at the University of Iowa's Holden Comprehensive Cancer Treatment Center.
"We always look forward to kicking off the holiday season at the Hope Lodge," said UI women's golf coach Megan Menzel. "It is a fun time to get both our men's and women's teams together and spend a couple of hours with those staying at the Lodge. It is great to meet new people and to give our time to bring a smile to the faces of those going through such a difficult time."
Though the guests may be going through a hard time in their lives, they continue to remain positive and always enjoy visitors. Both UI golf squads visit several times a year. Their most recent visit came last week. Although each visit is special in its own way, men's golf coach Tyler Stith says there is one thing that tops it all.
A visit from the Hawkeyes is the perfect distraction for those at the Hope Lodge. Amongst baking cookies, playing card games, or piecing together a puzzle, the Hawkeyes enjoy getting to know each and every guest.
"The guests really enjoy our visits," said Stith. "The best part is learning about everyone's personal journey. It's an extremely rewarding experience. The residents at the Hope Lodge are an inspiration and their stories are a reminder to be grateful each and every day."
"The people staying there are fun to talk to," said Menzel. "We talk about all sorts of things, and they especially enjoy hearing about how our players ended up at Iowa. We always find a couple that love to talk sports and golf."
As for Carson Schaake, a junior on the men's team and co-champion of last year's Big Ten Tournament, he knows how much of an impact he has on the course. He also knows that he has just as big of an impact off the course.
"A student-athlete can have a huge impact in other peoples' lives," said Schaake. "There are some days where we take for granted the opportunity we have as student athletes at a great school and forget to give back. Volunteering at the Hope Lodge is just one way we can do that.
"I can speak for the team when I say that spending just a few short hours with patients at the Hope Lodge and seeing them smile and laugh makes it all worth it."