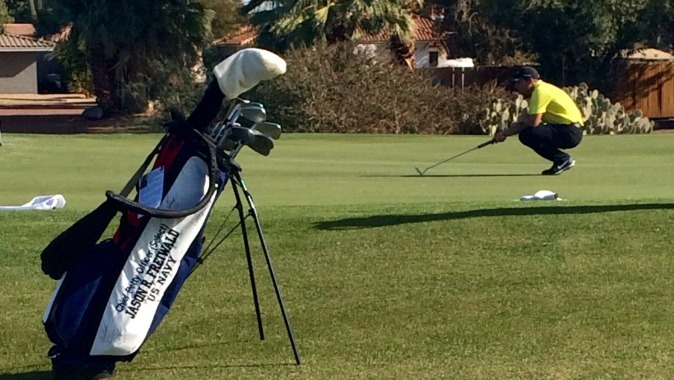 Jan. 3, 2016
Editor's Note: The following first appeared in the University of Iowa's Hawk Talk Daily, an e-newsletter that offers a daily look at the Iowa Hawkeyes, delivered free each morning to thousands of fans of the Hawkeyes worldwide. To receive daily news from the Iowa Hawkeyes, sign up HERE.
BY SAM STYCH
hawkeyesports.com
IOWA CITY, Iowa — University of Iowa men's golfer Carson Schaake may be an elite Division I golfer, but this past week wasn't about him or the Hawkeyes. It was about those who fight for the red, white, and blue.
Schaake, a Division I PING All-Midwest Regional Team honoree in 2015, was among 84 collegiate golfers to compete at the Patriot All-America Invitational in Litchfield Park, Arizona, from Dec. 29-31.
One of the more unique golf events in the country, the Patriot All-America is a three-day tournament that honors our military. Each player carries a bag with the name, rank, and service of a fallen or severely wounded soldier embroidered on the pocket. Following the championship, the bags go to the players' school for auction, with proceeds benefiting the Folds of Honor.
It was an experience that Schaake won't soon forget.
"The Patriot was an unbelievable experience and it was by far one of the most special events I have played in," said Schaake. "I didn't know what to expect going into the tournament, but right after I got to the resort and saw the golf course, I realized just how important it was to the people involved and how special this event is."
Following an opening ceremony that included a walk through of an onsite military chopper, Schaake was introduced to the name of the serviceman he would be playing for.
"The soldier I honored was Navy Chief Special Warfare Operator Jason R. Freiwald," said Schaake. "I looked a lot into who he was as a person and a serviceman. For me to be able to represent him in the tournament was special."
Freiwald, a native of Utica, Michigan, enlisted in the Navy following his high school graduation in 1996. He is a highly-decorated SEAL earning several honors, including The Purple Heart and a post-humorous Silver Star. Freiwald passed away on Sept. 12, 2008, after sustaining injuries during a battle with heavily armed militants a day earlier. He left behind his wife and their daughter.
"Mr. Freiwald fought to keep this country safe, which means he has given me and a lot of other people the opportunity to do what we love each and every day," said Schaake. "Playing with his name on my bag made me realize that having a bad hole or hitting a bad shot on the course is nothing compared to what some people have to go through."
For Schaake, that opportunity is to play golf, and that's what he did. The 2015 Big Ten Tournament champion finished just outside of the top-10 at the fifth annual event, carding a three-round 218 (+5; 71 74, 73) to tie for 11th.
"I played pretty well," said Schaake. "I hit a lot of quality shots and made a lot of birdies, however, I made a lot of bogeys too. If I could have eliminated some of my bad holes, that tournament was mine for the taking."
After yet another solid performance, even in the heart of winter, the spring season can't come soon enough for Schaake.
"I know that I can play with anyone in the world," said Schaake. "I am ready to get this spring season going, not only because of how I feel about my game right now, but I think the team is ready to start winning tournaments, too."