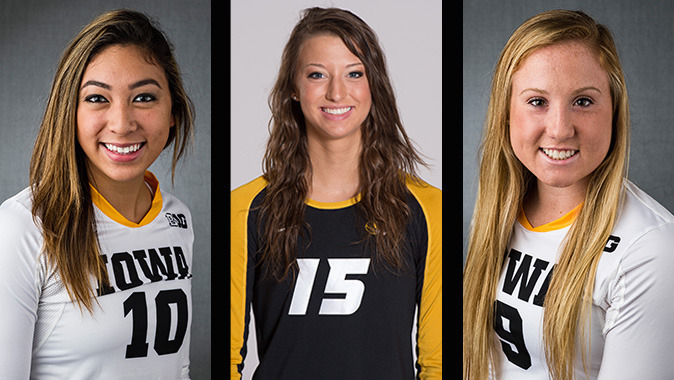 Feb. 16, 2016
COLORADO SPRINGS, Colo. — Three University of Iowa volleyball student-athletes — junior Loxley Keala, redshirt sophomore Kasey Reuter, and sophomore Annika Olsen — will travel to the U.S. Olympic Training Center to take part in the U.S. Women's National Team Open Tryouts on Friday Feb. 19-21.
Keala and Olsen were both starters for the Hawkeyes in 2015, while Reuter joined the Hawkeyes this spring after playing 31 matches for Missouri in her freshmen campaign in 2014 and redshirting in 2015.
"It's a great privilege and opportunity to be able to support our women as they compete and train with the best players across the country," said UI head coach Bond Shymansky. "Developing their skills inside the USA program at Colorado Springs will be an inspiring challenge.
"The spring is the time to build new skills, new strengths, and new roles as we continue to evolve into an elite level team. I am confident that Loxley, Annika and Kasey will represent our University and themselves extremely well."
The tryout will evaluate approximately 231 athletes from 88 colleges from across the country for spots on the U.S. Women's National Team and the U.S. Collegiate National Team program.
U.S. Women's National Team head coach Karch Kiraly and his staff will direct the entire tryout process. The tryout will involve four sessions with three waves per session. Friday's first session goes from 3-9 p.m. (CT), while Saturday's sessions are at 9 a.m. (focus on serve/receive and individual work) and 3 p.m. (middle-centered and out-of-system focus). The tryout concludes on Sunday at 9 a.m. with tournament style play, along with 16-18 athletes selected by the staff to participate in a USA training session.
All sessions of the tryout will be streamed live here. USA Volleyball will use #USAVTryout as the tryout hashtag for photos, notes, quotes and stories posted to its social media platforms Facebook, Snapchat, Twitter and Instagram under the handle @usavolleyball.
Selections for the U.S. Collegiate National Teams will be made by the end of March.
USA Volleyball Complete Release.