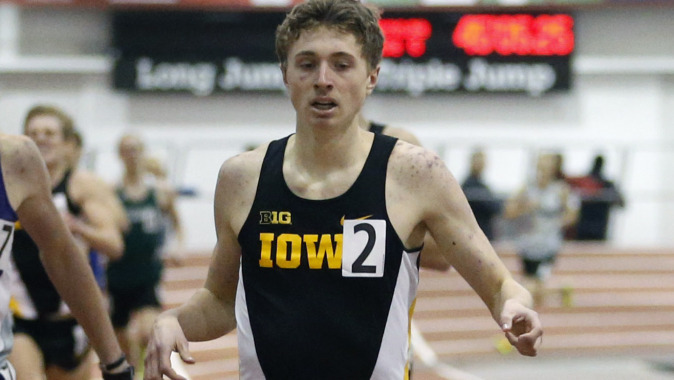 Feb. 23, 2016
Editor's Note: The following first appeared in the University of Iowa's Hawk Talk Daily, an e-newsletter that offers a daily look at the Iowa Hawkeyes, delivered free each morning to thousands of fans of the Hawkeyes worldwide. To receive daily news from the Iowa Hawkeyes, sign up HERE.
By DARREN MILLER
hawkeyesports.com
IOWA CITY, Iowa — Student-athletes do anything and everything in small-town Iowa high schools. That was true for Monticello native Michael Melchert, who alternated between cross country, basketball, track, and baseball.
He showed diversity as a runner, too. A state cross country champion in 2013 at 5 kilometers, Melchert showed off his range and exceled on the track in distances from 200 to 3,200 meters.
The six-time high school state track champion has moved up to the Division I stage and is ready to lead the University of Iowa distance corps at the Big Ten Indoor Track and Field Championships from Feb. 26-27 in Geneva, Ohio.
Melchert has been a feel-good story for the Hawkeyes all season. After finishing 17th at the Big Ten Cross Country Championships in November, he has continued with notable performances on the indoor track. Melchert sits 13th in the league in the mile with a time of 4:05.37; in back-to-back 3,000 runs, he has finished in 8:08 and 8:09.
"He has taken that success from the fall and all the work he has done up to this point and parlayed that into a great opening mile and two consistent times in the 3K," UI distance coach Layne Anderson said. "It validates the work he is doing and the progression he is making. It is great to get to this point, the next step is to go to a conference meet, perform well, score, and notch that achievement on his belt."
Since he was involved in so many activities in high school, Melchert's weekly mileage total rarely exceeded 60. When he first enrolled at the UI, he found himself running 90 miles a week and a stress reaction in a foot and a stress fracture in a shin followed.
| | |
| --- | --- |
| | "I would like to anchor the medley to a top three finish and then get top five in the mile." |
"Coming in as a freshman, the workouts were kind of killing me when I made a huge jump in my mileage," Melchert said.
The increased work load caused a temporary setback with injury, but it also made him stronger for the long haul. Melchert has not only comfortably acclimated to 90 miles a week, but he has increased his mileage totals.
As a precaution, Melchert takes daily doses of calcium and Vitamin D and faithfully visits the training room after practices.
"I have always been good on the speed side for track, it's the strength holding that speed for long durations," Melchert said. "You get a lot of strength in the cross country season running 8K and 10K. That strength helps so much on the track."
At the Big Ten Indoor Championships, Melchert will run a mile preliminary Friday at 11:40 a.m. (CT) and anchor the distance medley relay at 5:30 p.m. The mile final is at 12:20 p.m. on Saturday.
"I would like to anchor the medley to a top three finish and then get top five in the mile," Melchert said.
That's where his experience at 200 meters becomes a plus. Since most distance races at the championship level lapse into a "sit-and-kick" scenario, the runner with foot speed is at an advantage.
"He is a great finisher, so now it is fun to watch when he is able to stay in races and run faster early on and bring that 59-second (400 meter) close to about anything," Anderson said.
Melchert, a sophomore, also shines in the classroom. He carries a 3.43 grade-point average (on a 4.0 scale) while majoring in health and human physiology with an emphasis in physical therapy.