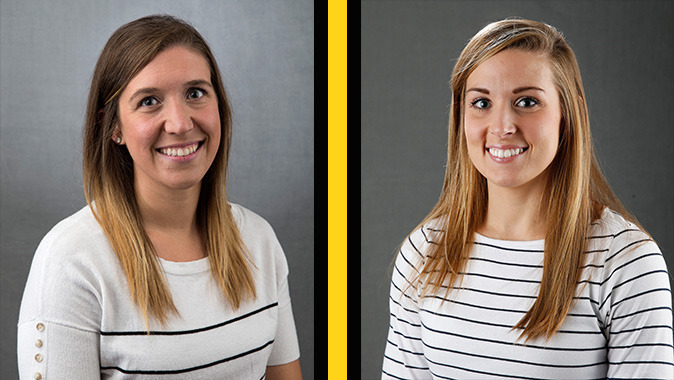 March 2, 2016
IOWA CITY, Iowa — University of Iowa head volleyball coach Bond Shymansky announced Wednesday the elevation of Bre Payton from director of operations to interim assistant coach. Emily Sparks, a native of Iowa City, Iowa, will fill Payton's former roll of director of operations.
Payton replaces Danielle Carlson, who left to pursue a career outside of athletics.
"Bre is one of the few coaches whose playing resume matches her coaching ability," said Shymansky. "As an All-American setter she demonstrated leadership, drive, focus, and the will to win. Those same traits will be invaluable for us in her role as our offensive coordinator.
"Growing up in Iowa, Bre knows what it means to be a true Hawkeye. She will bring experience, passion, grit, and energy into our program. We look forward to her continued impact on our program."
The Waterloo, Iowa, native joined the Hawkeye coaching staff following a year as a graduate assistant at Minnesota State, Mankato. Payton's duties included travel arrangement, meal planning, coaching, assessing film, and recruiting. While there, she earned her master's degree in sports management.
"I'm more than grateful for the opportunity to be an assistant coach here at Iowa," said Payton. "It's a privilege to be able to coach in my home state and in the Big Ten. I am excited to see what the future has in store for Iowa volleyball."
Payton played collegiate volleyball at Northern Iowa. The four-year starting setter earned first team all-conference honors and conference player of the year recognition in three consecutive seasons (2009-2011). She is a two-time second team All-American (2010-11) and an honorable mention All-American (2009).
She completed her degree at UNI in movement and exercise science: sport psychology in 2012.
Sparks joins the staff as the interim director of operations after two years as a staff member in the Iowa Athletic Department. She has served as a learning assistant for Academic Services, a sports operations coordinator, and spent time working with the event management team since June of 2014.
"Emily has been a great Hawkeye staff member inside the athletic department and has a proven track record of success," said Shymansky. "I have seen her work diligently with different programs inside the department, and Emily always has a positive impact.
"I am confident that she will be able to serve the needs of the women on our team and organize all aspects of our operations. Her collegiate volleyball playing experience is invaluable in her capacity as a director of operations."
The Iowa City High School graduate earned her Bachelor of Science degree in exercise studies from Upper Iowa University in May 2013. She received her Master of Science degree in sport management from Western Illinois University in December 2014.
"Having been born and raised here in Iowa City, I grew up a lifelong Hawkeye fan," said Sparks. "It has always been a goal of mine to return home and work for the University of Iowa Athletic Department, so I am very excited for this opportunity.
"The volleyball staff is incredible, and having a chance to be a part of this team is like a dream come true. I believe in this program, and I look forward to what the future has in store for us."
Sparks played collegiate volleyball at Upper Iowa University from 2009-2013. She is a three-time Northern Sun Conference All-Academic Team selection (2010-12), and a Northern Sun Myles Brand All-Academic with Distinction Award recipient (2013).