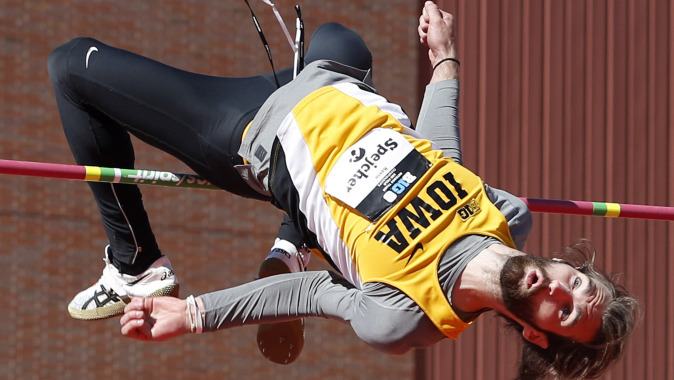 May 17, 2016
Editor's Note: The following first appeared in the University of Iowa's Hawk Talk Daily, an e-newsletter that offers a daily look at the Iowa Hawkeyes, delivered free each morning to thousands of fans of the Hawkeyes worldwide. To receive daily news from the Iowa Hawkeyes, sign up HERE.
By DARREN MILLER
hawkeyesports.com
LINCOLN, Neb. — Kevin Spejcher is a Big Ten Conference champion in the men's high jump and nothing can take that away, not even an uncooperative ankle that derailed some of the peak jumping days of his career.
Spejcher was the first of three individual conference champions for the University of Iowa track and field program at the 2016 Big Ten Championships from May 13-15 in Lincoln, Nebraska. His winning height was a season-best 2.18 meters (7-feet-1 ¾) and permanently etched his name into league archives. The title is a mixture of bliss and relief and it is particularly warranted since Spejcher, who as a sophomore at the 2014 Big Ten Outdoor Championships, was runner-up, although the top four placewinners made 2.14 meters (7-0 ¼).
Suddenly after that meet, getting above 7-feet became difficult, if not impossible. During the 2015 outdoor season, Spejcher finished seventh, clearing 6-9 ¾. He dipped to 10th at the 2016 indoor championships, bowing out after making 6-8.
"It's all about getting healthy," Spejcher said. "Indoor was rough and most of indoor I had an ankle issue and couldn't get over it until I got treatment. After that I took time off and relaxed the whole spring break and did what I needed to do and the pain was gone."
Spejcher was successful on five of his first seven attempts Saturday, but after clearing his first jumps at 2.02, 2.07, and 2.12 meters, he was down to his third attempt at 2.15 (7-0 ½).
"You can't think about anything, you have to go out there and do all you can," Spejcher said of his final-attempt strategy. "You have to make the height and deal with it after that."
Clearing 2.15 meters assured Spejcher a top-three finish with Ryan Lockard of Minnesota and Chisom Ifedi of Penn State. A successful first attempt at 2.18 was the knockout that gave him a gold medal.
"I kind of knew it," Spejcher said of making 2.18 meters. "Once I got off the mat I knew it was over and no one would hit that."
He was correct, but neither he nor UI assistant coach Molly Jones were surprised by the outcome.
| | |
| --- | --- |
| | "I kind of knew it. Once I got off the mat I knew it was over and no one would hit that." |
"I woke up (Saturday) morning and thought Kevin was going to win and he did," Jones said. "The way he has been jumping lately, he seemed confident and dialed in. He was making adjustments and it worked."
Modifications were vital because strong winds at their back challenged competitors all day.
"I like the wind," Spejcher said. "I don't know what it is, but when the wind is at my back, I feel it gives extra motivation to get up and jump. If the wind is pushing me to run, I might as well jump."
Becoming a Big Ten champ wasn't the only milestone reached by Spejcher on Saturday. He also earned a degree in sociology (criminology track), although he obviously couldn't attend a celebration in Iowa City when he was being celebrated at Ed Weir Stadium.
"I didn't want to go to graduation where I would sit in a chair all day. That's no fun," Spejcher said.
Instead, he ascended to a championship at his eighth conference meet. After the victory, Spejcher leaped for joy with anyone he saw: coaches, teammates, and even competitors.
"It still hasn't hit me," he said moments after the win. "I'm walking around because I don't know what to do or who I'm supposed to talk to."
Spejcher is a native of Bloomingdale, Illinois, and he attended Lake Park High School in Roselle. When Spejcher was a senior in 2012, the Lancers won the Class 3A boys' state track and field title; he was fourth in the high jump.
His results at Iowa have varied from 18th at his first Big Ten indoor championships to earning a gold medal at his final league championship. Even though Spejcher is a senior, he's using the most recent accolade as a starting point for his next leap upward.
"Regionals are next and we'll take it from there," Spejcher said.
The NCAA West Preliminary men's high jump begins at 5:30 p.m. (CT) on May 28 in Lawrence, Kansas. Spejcher is ranked in a three-way tie for 13th in the region. The top 12 finishers at the West Preliminary and East Preliminary (Jacksonville, Florida) advance to the NCAA Finals from June 8-11 in Eugene, Oregon.