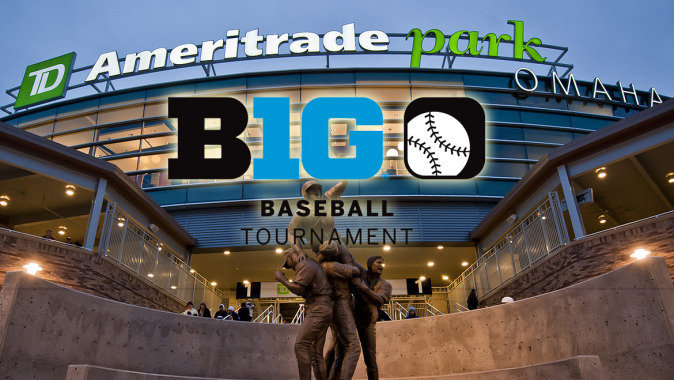 May 21, 2016
2016 Big Ten Tournament Bracket

ROSEMONT, Ill. — The University of Iowa baseball team will be the No. 8 seed at the 2016 Big Ten Tournament, where it will face top-seeded Minnesota at 5 p.m. (CT) Wednesday at TD Ameritrade Park in Omaha, Nebraska.
The Hawkeyes, who won four of their final six Big Ten contests to finish at 12-12 in league play and 27-25 overall, are making their third straight tournament appearance. The Gophers went 16-7 in Big Ten action to claim their 23rd Big Ten title and earn the No. 1 seed. Minnesota is 34-18 overall.
The Gophers won the series over Iowa, taking two of three games in Minneapolis in early April. The Gophers won game one, 4-1, on April 1 before the two teams split an April 3 doubleheader. Iowa won the opening game of the twin bill, 6-3, and the Gophers took the finale and claimed the series win, 6-3.
No. 2 seed Nebraska will face off against seventh-seeded Michigan State at 1 p.m.; No. 3 seed Indiana will take on sixth-seeded Maryland in Wednesday's opening game at 9 a.m., and fourth-seeded Ohio State will meet fifth-seeded Michigan in the final game of the night at 9 p.m.
The tournament begins with four contests Wednesday and Thursday and two games slated for Friday. Saturday will feature the winners of each bracket facing the remaining one-loss team from the opposite bracket in the semifinals. As many as four games are scheduled for Saturday, with the opportunity for two if necessary games to be played to determine Sunday's championship game participants.
BTN will air every game of the Big Ten Tournament. The B1G Diamond Report will air following the last game of the day on Friday and Saturday, while This Week in the Big Ten will wrap up the tournament following the championship game on Sunday night. On-site interviews with a winning player and coach can also be seen immediately following every game of the tournament.