May 27, 2016
Friday's Complete Results

| Photo Gallery

LAWRENCE, Kan. — The University of Iowa track and field team secured six bids to the 2016 NCAA Outdoor Championships following the first full day of quarterfinal competition Friday at the NCAA West Preliminary Round.
Jahisha Thomas (long jump), Elexis Guster (400 meters), Mar'yea Harris (400 meters), Carter Lilly (800 meters), Mitch Wolff (400-meter hurdles), and MonTayla Holder (400-meter hurdles) will compete for national titles in their respective events from June 8-11 at the NCAA final site in Eugene, Oregon.
Thomas locked up her first NCAA championship berth in the women's long jump to conclude Friday's events. The sophomore saved her best jump for last when she matched her personal-best 20-3 (6.17m), which she set at last year's NCAA West Regional meet. That mark stands fourth on Iowa's all-time list.
On the track, Guster (52.80) automatically punched her ticket to the NCAA final site for the second consecutive year in the women's 400 meters following a heat win to place sixth overall in the region. The junior claimed honorable-mention all-America honors in the event last season.
"It feels good, but it was stressful at first," said Guster. "The main goal was to win my heat because that's the automatic qualifier regardless of time. Running early in the morning and not having anything under my legs the day before was kind of nerve-racking, but I just prayed, warmed up really well, and prepared mentally. I went out there and gave it my all."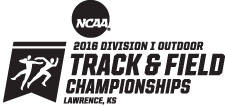 In the men's 400 meters, Harris was a heat winner to secure his spot at the NCAA finals. The freshman ended with the fourth-fastest qualifying time out of the West division in 46.16.
"It feels great to make it to nationals," said Harris, who is the first Hawkeye to reach the NCAA final site in the men's 400 meters since Steven Willey in 2010. "I accomplished the one goal I set for myself all year. Before the race I was really nervous, but I knew if I got out, stayed relaxed, and sat on the guy in front of me, I would be okay. My goal was just to win."
Lilly, a sophomore, advanced by time when he crossed the men's 800-meter line in 1:48.55, the day's seventh-best regional mark. This will be his first NCAA finals appearance.
"I'm really excited," said Lilly. "I knew if I focused on running my race and was in the top two I'd have a good chance of moving on. Coach (Jason) Wakenight has done a great job preparing me for this and hopefully I can come back tomorrow and run a fast 1,600-meter relay split and make it to nationals in two events."
Holder advanced to the national meet as a time qualifier in the women's 400-meter hurdles in 57.12, the fifth-fastest quarterfinal time. The senior placed 13th at last year's regional meet.
"Missing the national meet last year by one spot really hurt me," said Holder, a 2014 honorable-mention All-American in the 400-meter hurdles. "I was facing some injuries and it really blew my confidence. It means so much to me to have made it back to Oregon this year. I've been through so much this year from changing coaches and totally relearning this hurdle race to being told I should take three weeks off last week because of my achilles injury I had at Big Tens. To overcome adversity today is such a blessing."
A 2015 second-team All-American, Wolff booked his return trip to Eugene in the men's 400-meter hurdles. The junior made it around the track in 51.34 to move on by time.
"It's been an emotional roller coaster," said Wolff. "It wasn't the season I was hoping for, so I'm just happy I get to continue racing. When I saw my parents after my race I broke out in tears because they've been at my side for all of my highs and lows. I'm also so proud of how everyone is competing and I'm excited to lead off the 1,600-meter relay tomorrow."
Redshirt freshman Reno Tuufuli leads off competition for the Hawkeyes on Saturday at 9 a.m. (CT) in the men's discus. The first track event is the women's 400-meter relay at 10 a.m. followed by the men's 400-meter relay at 10:15 a.m. at Rock Chalk Park on the campus of Kansas University.
Note: The men's shot put, featuring junior Avery Meyers and Tuufuli, has been pushed back to 2:30 p.m. (CT) Saturday due to weather.