Hawkeye Fan Shop — A Black & Gold Store | 24 Hawkeyes to Watch 2016-17 | Buy Tickets | 2016 Football Fall Camp Central
Editor's Note: The following first appeared in the University of Iowa's Hawk Talk Daily, an e-newsletter that offers a daily look at the Iowa Hawkeyes, delivered free each morning to thousands of fans of the Hawkeyes worldwide. To receive daily news from the Iowa Hawkeyes, sign up HERE.
By DARREN MILLER
hawkeyesports.com
 
CORALVILLE, Iowa — Athletic teams at the University of Iowa have prospered for years using homegrown talent to succeed locally and nationally.
 
The University of Iowa Athletics Department (UIAD) is relying on that formula again with a wrinkle: On Friday, senior staff of the UIAD joined owner Jeff Collins for a ceremonial ribbon-cutting at the Hawkeye Fan Shop, a Black and Gold Store at 1525 Second Street in Coralville.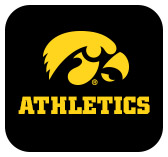 Collins is from the Quad Cities and has three decades of experience in the industry. He has worked in a similar capacity with the New Orleans Saints, New York Jets, Minnesota Vikings, New York Yankees, and Chicago Cubs, as well as with several universities.
 
"To begin with, we're Iowa fans," Collins said. "We believe in making the customer satisfied and having the best depth of product anywhere.  We're Iowa fans, so we know what these people want and we're going to try to get it for them."
 
Hawkeye Fan Shops are located in Coralville and in the Old Capitol Town Center in Iowa City. There are also Black and Gold Shops by Coral Ridge Mall and in Davenport by NorthPark Mall. There will be game day locations in Krause Family Plaza near Kinnick Stadium and in Carver-Hawkeye Arena. Fans can also visit the e-commerce website, www.hawkeyefanshop.com, for officially licensed Hawkeye merchandise.
 
"The thing that comes to mind is whenever I'm in an airport or hotel in another city, and you are wearing that Tigerhawk, you hear 'Go Hawks!'" said Gary Barta, UI director of athletics. "The group we're working with is known across the country; they are great at what they do and it is going to be great for our fans."
 
Although the ribbon cutting was Aug. 12, the store in Coralville has been open since July 1. Normal business hours are 10 a.m. to 7 p.m. (CT) Monday through Saturday and noon to 5 p.m. on Sunday. The store is open at 8 a.m. on football game days.
 
"We're excited to be here and be part of the University of Iowa athletics program, provide customers with 100 percent game-day satisfaction and the product they need to support the Hawkeyes every day of the year," said J.J. Corkhill, general manager of Hawkeye Fan Shop. "Hawkeye fans are the best in the country."
 
It has been easy for Collins to embrace a new opportunity.
 
"We're approaching it as someone who loves Iowa to begin with," he said. "It's not hard to do."
 
Sales of officially licensed merchandise provide financial support for all University of Iowa intercollegiate athletic programs and student programming.
 
The athletic seasons at the UI begin soon. The official team stores should be buzzing today with gates open for football Kids Day at Kinnick at 9 a.m. The Iowa volleyball team hosts its annual Black & Gold Scrimmage on Aug. 20 at 3 p.m.
 
"This is the start of a partnership we have with the University of Iowa," Corkhill said. "We hope to grow the brand of the University of Iowa and continue to grow the support from the fan base to the University of Iowa and the athletic department."