Hawkeye Fan Shop — A Black & Gold Store | 24 Hawkeyes to Watch 2016-17 | Hall of Fame: Sean McCarty | Hall of Fame: T.J. Williams | Hall of Fame: Gayle Blevins | Hall of Fame: Toni Foster
Editor's Note: The following first appeared in the University of Iowa's Hawk Talk Daily, an e-newsletter that offers a daily look at the Iowa Hawkeyes, delivered free each morning to thousands of fans of the Hawkeyes worldwide. To receive daily news from the Iowa Hawkeyes, sign up HERE.
By JAMES ALLAN
hawkeyesports.com
IOWA CITY, Iowa — After an extended hiatus, Kimberly Stevens is joining her University of Iowa swimming and diving parka in the Hall of Fame.
 
She is one of seven individuals — and the first UI women's swimmer or diver — that will be inducted into the National Iowa Varsity Club Athletics Hall of Fame on Sept. 2.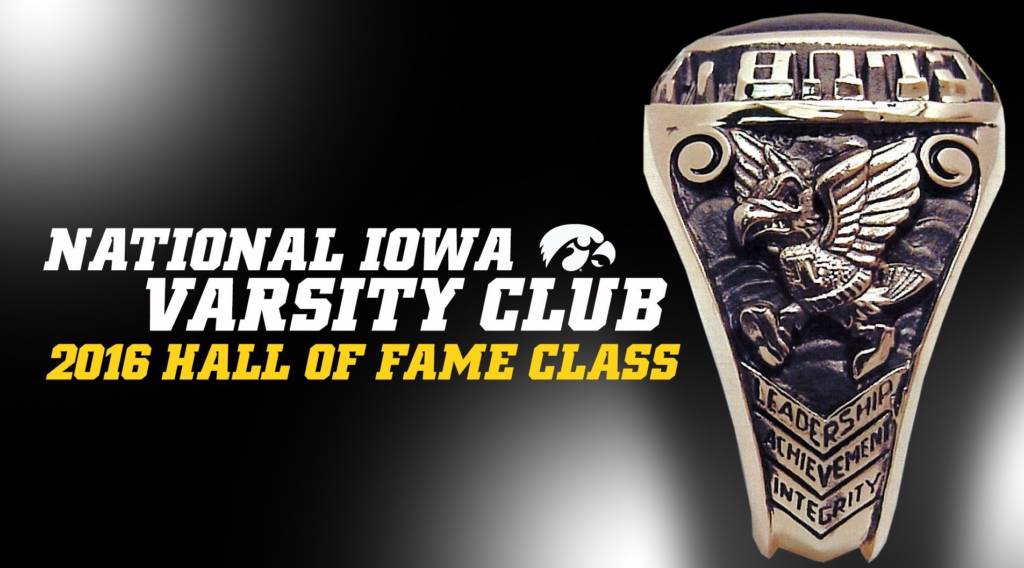 "This means everything," said Stevens. "It is an honor I never dreamed I would deserve, earn, or receive. The irony is when they redid the Hall of Fame and built the new building, (UI associate head coach) Frannie (Malone) asked for people to donate items to the swimming exhibit, so I donated my old swimming parka.
 
"It has been there since and when I take my kids to Iowa City for a football game or when we go back, I tell them we have to go to the Hall of Fame and visit my parka because that's the closest thing to the Hall of Fame I am ever going to get.
 
"It's funny, after I got the call; I was telling my friends I was joining my parka in the Hall of Fame."
 
If it was up to Stevens, her swimming career would have ended before it even began.
 
"Two weeks after I started swimming with my best friend when I was 9, she quit," said Stevens. "I wanted to quit, too, but my parents wouldn't let me."
 
Stevens' first competition was a "C" meet, meaning anyone who could make the distance could compete.  She and a carload of friends piled into her mother's station wagon for a weekend meet.  The meet prize was a giant rosette ribbon.
 
"On Sunday I was the only kid in the car that didn't have a ribbon," said Stevens. "All I wanted was that ribbon.  I cried after that meet and told my parents I wasn't doing this anymore.
 
"Of course, years and years later the tide had turned because none of the other kids even swam in college.  It was funny how it all turned around."
 
It started in high school when she helped Hinsdale Central (Illinois) to four consecutive Illinois state titles. It was during her final state meet — and an event disqualification — that kept her on the path to the University of Iowa.
 
"This means everything. It is an honor I never dreamed I would deserve, earn, or receive." — Kimberly Stevens, UI Hall of Famer
Stevens was the top overall seed in the 50-yard freestyle and a top-three seed in the 100 free.  The order of events was the 50 free with a break for diving followed by the 100 free.
 
"I got up on the blocks for the 50 free and the starter says 'Take your marks,' and I just dove," said Stevens. "It was a false start, they called us back, I got up on the blocks, and he says 'Take your marks,' and I dove again and was disqualified.  I was done and devastated."
 
UI assistant coach Jim Richardson was at the meet and observed Stevens during the aftermath. 
 
"I had to recompose myself and get ready for the 100," said Stevens. "Jim told me he saw me do it; he looked for me in the 100 free to see my character and when I came back that meant more to him in terms of my ability, psyche, and motivation than if I would have won in the 50 free."
 
Stevens joined the Hawkeyes in the fall of 1983. She won her first two Big Ten individual titles in 1985, sprinting to a win in the 100 free in 51.64 seconds and the gold in the 200 free in 1:50.76.
 
"The 1985 Big Ten Championships were in Iowa City, so we had a home crowd," said Stevens. "That made those titles even better."
 
In 1986, Stevens repeated as Big Ten champion in the 200 free with a time of 1:50.13, and she was a member of the winning 800-freestyle relay that won in 7:29.81.  Both times were Big Ten records.
 
"In 1986, I really wanted my individual 200 free to be under 1:50.00, and it wasn't," said Stevens. "I was frustrated with myself because I knew I could go faster. In the relay, I anchored in a 1:47.9 — an unofficial time, but they announced it.  That is where I should have been in my individual race.
 
"The nice thing was is that I did it for my team when it counted, and we won the relay and set a Big Ten record. There is something about when you have to do something and you step up for your team and accomplish it."
 
Stevens finished her career as a three-time All-American, earning the honor in the 200 and 400-freestyle relays in 1985 and 800-freestyle relay in 1986. Yet Stevens was still in disbelief when she received word of her induction.
 
"(UI assistant to the director of athletics) Mark Hankins called and left me a voicemail and told me he wanted to talk about the Hall of Fame," said Stevens. "When I returned the call, I thought he was going to ask me to be on the selection committee.
 
"I was so surprised; it was a shock and a nice surprise.  I started crying."
 
Part of the emotion stemmed from officially being able to join her parka in the Roy G. Karro Athletics Hall of Fame.
 
Stevens resides in Rockford, Illinois, where she remains an active swimmer.  She swam a 5K to raise funds for cancer in Lake Michigan in July and competes regularly in master's level competitions.