Hawkeye Fan Shop — A Black & Gold Store | 24 Hawkeyes to Watch 2016-17 | 2016 Iowa Volleyball Schedule
Editor's Note: The following first appeared in the University of Iowa's Hawk Talk Daily, an e-newsletter that offers a daily look at the Iowa Hawkeyes, delivered free each morning to thousands of fans of the Hawkeyes worldwide. To receive daily news from the Iowa Hawkeyes, sign up HERE.
By RICK BROWN
hawkeyesports.com
IOWA CITY, Iowa — Carver-Hawkeye Arena has been the University of Iowa's sports facility for more than three decades. But thanks to an impressive facelift, age has become only a number.
 
A handful of modern-age bells and whistles have been added to the home of Hawkeye wrestling, volleyball, men's and women's basketball, and men's and women's gymnastics.  A four-sided center-hung videoboard/scoreboard, a new sound system, new lighting, and a new floor will be on display for the first time Friday when the UI volleyball team hosts the Hawkeye Classic.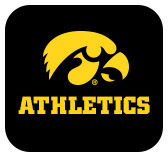 Bond Shymansky, Iowa's third-year volleyball coach, said the enhancements "instantly makes Carver-Hawkeye look like a 3-year-old building, not 33 years old. It provides great momentum for all the programs that compete in there."
 
Gene Taylor, Iowa's deputy director of athletics, said the facility upgrades will improve the fan experience and create a better home-court advantage for the teams that play there.
 
"There's so much more energy you can get going in a facility with enhancements like this," Taylor said. "We have the ability to do more with the game day atmosphere. It was perfect timing for it to all come together."
 
The centerpiece of the improvements is the center-hung videoboard/scoreboard that has state-of-the-art video screens on all four sides. Carver-Hawkeye Arena has never had a center-hung scoreboard because it was always believed that the arena couldn't handle one structurally.
 
"I don't think anybody really looked at this until we brought our consultants in to help us with the project — Anthony James Partners," Taylor said. "They said, 'Have you ever looked at a center hung?' We didn't think we could put one up there."
 
But improved technology has made center-hung boards much lighter than they used to be. Daktronics produced a board that came in under the 34,000-pound limit, which includes the weight of the hoist. The Hawkeyes were in business.
 
"Back when they started doing center-hungs, they were made with such heavy material," Taylor said. "There was no way it was ever going to stay within that 34,000 pounds. In today's world, you can do a center-hung with a lot lighter material."
 
Four auxiliary displays, two at each end of the arena, were also added. Existing scoreboards were repurposed and improved. The total cost of the project was around $4 million.
 
"From a recruiting standpoint it shows we continue to be leading edge and continue to be pushing for all the facilities and the support of our athletic programs," Shymansky said. "From a fan's perspective, it's going to enhance the experience when you come to a game or match at Carver. Maybe it was long overdue in some ways, but it's fantastic to have cutting-edge technology now hanging right over our heads. "
 
Shymansky calls the center-hung board "a total jawdropper."
 
Taylor said Carver-Hawkeye Arena will have a totally different feel than it did a season ago.
 
"The sound system, with the (center-hung) board; there are a lot of things you can do from a marketing perspective to drive energy and enthusiasm," Taylor said. "We've got a good product on the floor already, and that's a good thing. This will enhance it even more."
 
Taylor has heard the sound system cranked up just once.
 
"It was impressive," he said. "It's a big difference. We can do a lot of cool things with the lights pregame in terms of introductions and presentations. There's a strobe effect and we can turn the lights on and off with no delay."
 
Taylor said the project "went about as smoothly as a project can go — Daktronics with the scoreboard, Musco with the lighting, the cooperation of all the various contractors went well in terms of getting started and finished on time."
 
And now it's go time Friday. Shymansky, who is working to build a winning program in a very demanding Big Ten Conference, said that the enhancements are another step forward.
 
"It's going to be cool," Shymansky said. "Everybody is excited about what it will do for our environment."
 
About the Author
Rick Brown is a native of Fort Dodge, Iowa, and a University of Iowa graduate. He covered Iowa athletics for the past four decades for the Des Moines Register prior to his retirement in December.