Video Highlights | Photo Gallery | Hawkeye Invite PDF Results
IOWA CITY, Iowa — Senior Tess Wilberding's first career win and junior Michael Melchert's record setting performance highlighted the 2016 Hawkeye Invitational at the Ashton Cross Country Course on Friday night.
Wilberding started things off for the Hawkeyes, grabbing her first career win in the 3,000-meters to lead the Iowa women to a first place finish. Her official time of 10:20.4 is a personal best and ranks fifth all-time in Iowa history.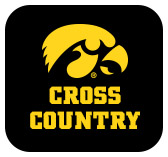 "I thought it was a good season opener," Wilberding said. "I wasn't going in expecting to win. I wanted to go out and see where I was at physically and when I got to the 2K I thought it was a good time to speed up. I felt really good about where I was."
Melchert kept things going for the men. He bested the previous school record in the 6,000-meters by six seconds, recording a time of 18:12.8.
"That is not what I was looking for," Melchert said. "I was just trying to get a hard effort in and just go off of feel. It felt really good. You want to get that rust out of the way in the first race."
Junior Ben Anderson followed Melchert in 10th place with a personal best 18:31.1 and sophomore Ian Eklin set a personal best 18:37.8 after finishing third in this Hawkeye Invite last year.
Sophomore Madison Waymire helped solidify the Iowa women's first place finish by notching a third place finish overall, recording a personal best time of 10:21.9, which ties for sixth all-time in Iowa history. Sophomore Lauren Opatrny made her 3,000-meter debut and was the third Hawkeye to crack the top 10, finishing ninth overall (10:30.8).
Freshman Claire Dupuis had an impressive collegiate debut recording a 20th place finish with an official time of 10:42.1
"We just wanted to have a nice rust-buster," UI cross country coach Randy Hasenbank said. "I wanted to push as many people to the starting line as we can, so we can see where we are. We have a long way to go, but we had a competitive spirit and that's what I told the team before the race."
The Hawkeyes return to action on Sept. 9 at Illinois State.