Hawkeye Fan Shop — A Black & Gold Store | 24 Hawkeyes to Watch 2016-17
IOWA CITY, Iowa — Richard Salhus has been named an interim assistant coach with the University of Iowa swimming and diving program, UI head coach Marc Long announced Tuesday.
 
"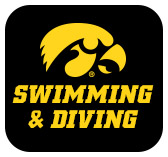 We're thrilled to have Richard join our staff," said Long. "He is a dedicated, committed, and well-respected coach with excellent results. It is also exciting to have a former swimmer rejoin the program."
 
Salhus, a former Hawkeye swimmer and UI graduate, returns to the team after spending the last five years as assistant head coach of the Iowa Flyers Swim Club.  He recently had been named the club's head coach.
 
"I would like to thank Marc Long, the swimming and diving staff and the University of Iowa athletics department for this tremendous opportunity," said Salhus. "Being a former Hawkeye, this is an honor and dream come to true to return to my alma mater to represent the University of Iowa and its stellar swimming and diving program in a coaching capacity."
 
During his stint with the Iowa Flyers, Salhus helped the team achieve a number of accolades:
He coached a fourth-place place finisher in the 200-meter butterfly at the 2016 USA Olympic Swimming Trials.
He coached an athlete named to 2016 USA Junior Pan Pacific Championship Team.
He was a 2014 National Select Camp assistant coach and a 2015 Central Zone Select Camp assistant coach.
He coached multiple Winter and Summer Junior National medalists.
Coaching alongside Robert Pinter, Salhus was also instrumental in developing three swimmers that were selected to the National Select Camp and one athlete was chosen to the USA Swimming National Junior Team.
 
The Johannesburg, South Africa, native was a four-year Iowa letterwinner, competing from 2007-11.  He earned Big Ten Swimmer of the Week honors in 2008.
 
As a prep, Salhus was a South African Junior National qualifier, winning numerous medals, including the gold in the 50 free and 50 fly.  He was also a member of the South African Junior Squad and qualified for multiple South African Senior Nationals and Olympic Trials. He was a finalist in the 200 free and 50 fly and a gold medalist in the 400-free and 800-free relays.
 
Salhus competed for Jon Rudd under Plymouth Leander in the United Kingdom where he held various records in Devon County.  He went on to win silver in the 17/18-year-old 50 free and bronze in the 800-free relay at the British Youth Championships and he also competed in the Great Britain Open Championships, where he was a finalist in the men's 50 fly and semifinalist in men's 50 free.
 
Salhus, who is ASCA Level 4 certified, graduated from the University of Iowa in 2011 with a bachelor's degree in health science with a minor health and sports studies. He and his wife, Mary, recently had their first child, Liam.