THIS WEEK
The University of Iowa men's and women's cross country teams travel to Normal, Illinois, for the ISU Country Financial Invitational on Friday. The women's 5,000-meter race begins at 5 p.m. (CT). The men's 8,000 meters begins at 5:45 p.m.
 
HOW TO FOLLOW
Results are posted on the Iowa cross country Twitter account: @Iowa XC_TF and online at hawkeyesports.com.
 
LAST TIME OUT
The Hawkeyes opened the 2016 regular season hosting the Hawkeye Invitational. Senior Tess Wilberding won her first career race in the women's 3,000-meters to lead the Iowa women to a first place finish — 32 points ahead of second place creighton. Michael Melchert led the men in the 6,000-meters, breaking the school record held by Eric MacTaggart since 2005 with a time of 18:12.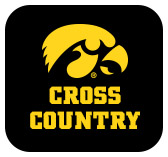 HASENBANK TAKES CROSS COUNTRY LEAD
Randy Hasenbank was named interim associate head cross country coach/ assistant track and field coach in August. Hasenbank takes over for Layne Anderson, who resigned after 13 seasons at the helm. Hasenbank spent the past five seasons at Loyola University Chicago where he won numerous accolades, including being named Horizon League Coach of the Year five times as well as coaching nine All-Americans.
 
HAWKEYES IN THE TOP 10
Junior Michael Melchert placed in Iowa's top 10 All-Time performers in his first race in 2016. The Monticello, Iowa, native broke an 11 year old record in the 6,000-meters at the Hawkeye Invitational on Sept. 2 with a time of 18:12. On the women's side, senior Tess Wilberding (10:20.4) and junior Madison Waymire (10:21.9) broke into the top 10, placing fifth and tying for sixth in Iowa history, respectively, in the women's 3,000-meters.
 
FRESHMEN DEBUTS
19 freshmen made their collegiate debuts at the Hawkeye Invitational on Sept. 2 — eight men and 11 women. Claire Dupuis recorded the fastest time for the women, placing 20th overall (10:42) ,followed by Julie Hollensbe in 23rd (10:43), and Marlie Houston in 45th (11:07) to round out the top three freshmen women. Luke Sampson notched a 16th place finish on the men's side, recording a time of 18:40. Nathan Mylenek finished in 28th (18:48) and Brandon Cooley landed in 39th place (18:56).
 
HAWKEYE NEWCOMERS
The men's cross country team added 22 student-athletes to its 2016 roster including 16 women and six men. Brandon Cooley, Adam Jones, Derek Meeks, Nathan Mylenek, Luke Sampson and Karson Sommer join the men's team. Taylor Arco, Grace Coen, Amber Decker, Alex Dodds, Claire Dupuis, Maria Eastman, Lauren Gibbs, Julie Hollensbe, Marlie Houston, Mallory King, Hunter Koenigsfeld, Haylee Luna, Tia Saunders, Haley Schroder, Macie Weber, and Lindsay Welker join the women's team.
 
HAWKEYES EXCEL IN CLASSROOM
The Hawkeyes had 10 student-athletes named to the 2015 Big Ten Fall Academic All-Conference team — Kevin Docherty, Marta Bote Gonzalez, Kelly Breen, Courtney Bruns, Nate Ferree, Daniel Gardarsson, Anthony Gregorio, Daniel Huff, Taylor Soltys, and Tess Wilberding. Gregorio and Gonzalez were named Big Ten Distinguished Scholars by being letterwinners and maintaining a Grade Point Average (GPA) of 3.7 or higher in at least their second academic year.
 
WAYMIRE, MELCHERT RETURN TO LEAD HAWKEYES
Junior Madison Waymire made history in 2015 becoming the first Hawkeye since 2000 to lead the team in six straight races. She posted her collegiate-best 17:22.7 in 5,000 meters at Notre Dame Invitational on Oct. 7 and finished in a season-high third place at the Illinois State Invite on Sept. 11. Waymire leads a young team with 16 freshmen on the roster in 2016.
 
Junior Michael Melchert returns as the men's top finisher from a year ago. The Monticello, Iowa native, led Iowa in three races last season, highlighted by his third-place (24:14.1) finish at the Bradley Pink Classic on Oct. 16. Melchert returns to Iowa as one of its top finishers at the Big Ten Championships last year.
 
ASSISTANT COACH
Jon Michael Brandt is in his third season as volunteer assistant coach. Brandt was a five-time letterwinner for Iowa, finishing his collegiate career with a 15th place finish at the Big Ten Outdoor Championships in the 10,000 meters.
 
ROSTER BREAKDOWN
The Hawkeye cross country team is comprised of 49 student-athletes — 20 men and 29 women. The men's team has five freshmen, seven sophomores, two juniors, and five seniors. The women's team has 16 freshmen, seven sophomores, three juniors, and four seniors.
 
HAWKEYES HOST NCAA REGIONAL
The Hawkeyes are proud to be hosting the 2016 NCAA Midwest Regional on Nov. 11 at the Ashton Cross Country Course in Iowa City. The meet will be televised live by the Big Ten Network for the first time in its history. The women's 6,000-meter race begins at 11 a.m. (CT) and the men's 10,000-meter race starts at 12 p.m. (CT).