Hawkeye Fan Shop — A Black & Gold Store | 24 Hawkeyes to Watch 2016-17 | Week 3 Notes (PDF)
SERVE IT UP
The University of Iowa volleyball team travels to Ames, Iowa, for the Cyclone Invitational this weekend. The Hawkeyes take on the Cyclones in the annual Iowa Corn Cy-Hawk Series on Friday, Sept. 9 at 6 p.m. (CT), before facing Montana and North Dakota State on Saturday, Sept. 10. All three matches will be held in the Hilton Coliseum. 
WATCH/LISTEN/FOLLOW ALONG
Iowa's match against Iowa State will be streamed (for a fee) on Cyclones.TV. For more information on how access to the stream, visit http://bit.ly/2cGIUqN. 
An audio stream of all three matches will be available on Hawkeye All-Access at hawkeyesports.com. Third-year play-by-play announcer Tim Keating will call the action. 
Live stats are also available for each contest on the volleyball schedule page on hawkeyesports.com.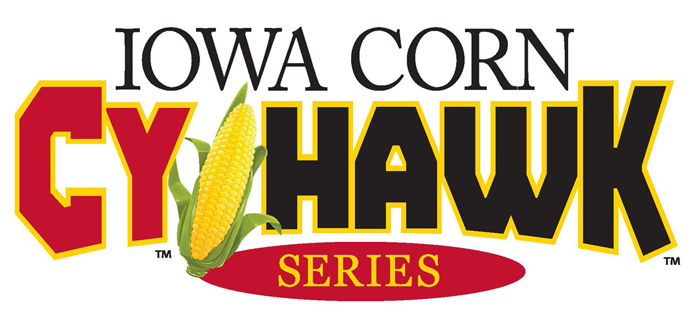 FOLLOW THE HAWKEYES
For an inside look at the Iowa Volleyball program and access to exclusive coverage, "like" University of Iowa Volleyball on Facebook and follow @IowaVolleyball on Twitter and Instagram. Be sure to follow the team's live Twitter feed, @IowaVB_Live, for more frequent in-match tweets, statistics and more.
ALUMNI DAY
The University of Iowa volleyball team will host its annual Alumni Day on Saturday, Sept. 17, when the Hawkeyes host South Dakota at 7 p.m. (CT). To receive more information at RSVP to the event, contact director of volleyball operations, Emily Sparks, at emily-sparks@iowavolleyball.com. 
BACK-TO-BACK TOURNAMENT CHAMPS 
The Hawkeyes have registered back-to-back tournament championships to begin the 2016 season. Iowa won the NIU Invitational with wins over Loyola (Chicago), DePaul, and NIU from Aug. 27-28, and defeated Western Illinois, Arizona State, and Oakland to take the Hawkeye Classic Championship from Sept. 2-3. 
SCOUTING IOWA STATE
Iowa State enters Friday's match with a 3-2 overall record, with its two losses coming to No. 18 Creighton and No. 1 Nebraska. 
The Cyclones are currently receiving seven votes in the AVCA Division I Top-25 Poll. 
Sophomore Jess Schaben leads the Cyclones with 54 kills on the season. Her 4.15 kills per set ranks fourth in the Big 12. 
The Cyclones lead the all-time series, 26-22. The Hawkeyes got their first win over Iowa State since 1997 last season in Iowa City, Iowa. 
The last time the Hawkeyes defeated the Cyclones in back-to-back seasons was 1996-97. 
SCOUTING MONTANA
Montana brings a 1-3 record into the Cyclone Invitational this weekend. 
Freshman Missy Huddleston leads the team with 33 kills and a 2.54 kills-per-set average, while redshirt sophomore Mykaela Hammer has 32 kills and a 2.29 average. 
Iowa owns a 2-0 advantage in the all-time series. Saturday marks the first meeting between the two teams since 1995. 
SCOUTING NORTH DAKOTA STATE 
North Dakota State is 1-6 on the season. 
Senior Hadley Steffen leads the team with 63 kills and a 2.33 kill-per-set average, while seniors Emily Minnick and Emily Miron have 61 and 59 kills, respectively. 
Iowa owns a 1-0 advantage in the all-time series. The Hawkeyes defeated the Bison, 3-2. , at the Bluejay Invitational on Sept. 1, 2006.  
A DAY TO REMEMBER 
In front of the fifth-largest crowd in program history (2,488), the University of Iowa volleyball team trumped the Cyclones, 3-1, for the first time since Sept. 13, 1997. The Hawkeyes used a .379 attack percentage and a season-high 66 kills to defeat Iowa State in four sets. 
JANOTA, KOUKOL SHINE 
Junior Jess Janota and sophomore Libby Koukol led the Hawkeyes to their first win over the Cyclones since 1997 last season. Janota paced the Iowa offense with a career-high 20 kills and a .514 attack percentage.  Koukol had a career game on defense, registering 18 of Iowa's 57 digs. 
ALL-TOURNAMENT HONORS – HAWKEYE CLASSIC
Senior Lauren Brobst was named the Hawkeye Classic's most valuable player — her second MVP honor in as many weeks. Junior Jess Janota and sophomore Reghan Coyle were both named to the all-tournament team. Brobst led the Hawkeyes with 45 kills and a .360 attack percentage on the weekend. Coyle hit a team-high .387 in four matches, registering 33 kills in 62 attempts, and Janota recorded 28 kills and eight blocks. 
.300+
The Hawkeyes registered a hitting percentage of .300 or better in each of their first three matches of the season at the NIU Invitational. Iowa hit .308 against Loyola-Chicago, a season-high .333 against DePaul, and .319 verses Northern Illinois.
BROBST ON THE OUTSIDE 
Senior Lauren Brobst has hit .300 or better in each of the first seven matches this season, including a season-best .565 against DePaul on Aug. 27. 
Brobst ranks fourth in the conference in total kills (83), seventh in hitting percentage (.406), and eighth in kills per set (3.77). 
COYLE HEATS UP
Sophomore Reghan Coyle registered 33 of her 53 total kills at the Hawkeye Classic last weekend. 
Coyle led the Hawkeyes with a .387 attack percentage on the weekend, averaging 2.54 kills per set. 
The Council Bluffs, Iowa, native ranks fifth in the conference and 34th nationally with a .412 hitting percentage on the year. 
KEALA THE QUARTERBACK
Senior setter Loxley Keala is averaging 11.74 assists per set — a mark that ranks third in the Big Ten and 12th nationally. 
Keala leads the Big Ten Conference and ranks 24th in the national in total assists (270). 
The Kaneohe, Hawaii, native posted a season-high 47 assists in Iowa's 3-0 win over Arizona State on Sept. 2. 
KLOSTERMANN SURPASSES 1,000 
Alyssa Klostermann surpassed 1,000 career assists on Aug. 27 against DePaul. The senior's 1,001 career assists ranks 11th on Iowa's all-time list. Janet Moylan (1987-90) holds the school record with 5,471 career assists.
ALL-TOURNAMENT HONORS – NIU INVITATIONAL
Senior Lauren Brobst was named the NIU Invitational' s most valuable player, and redshirt freshman Meghan Buzzerio and junior Annika Olsen were both named to the all-tournament team. Brobst finished the weekend with 38 kills and a .471 attack percentage. Buzzerio added 32 kills and 21 digs in her first three matches in a Hawkeye uniform, while Olsen paced the team with 46 digs. 
TRUE MENTAL TOUGHNESS 
The Hawkeyes have been focused on one mantra since the beginning of the season: True Mental Toughness. Bond Shymansky's squad defines true mental toughness as having a great attitude, treating others really, really well, being unconditionally grateful regardless of your circumstances, and giving your very, very best. 
THE PREMIER CONFERENCE 
The Big Ten Conference has had an NCAA Champion in eight of the last 12 years. Nine teams — Michigan State, Ohio State, Nebraska, Minnesota, Illinois, Penn State, Wisconsin, Michigan and Purdue — appeared in the 2015 NCAA Tournament with Nebraska winning their fourth national title. The title marked the third straight for the Big Ten Conference. 
NATIONALLY SPEAKING
Nine Big Ten teams appeared in the AVCA Division I Coaches Top 25 Poll, released Sept. 5. Defending National Champion Nebraska holds the top spot followed by No. 2 Wisconsin, No. 5 Minnesota, No. 12 Ohio State, No. 17 Penn State, No. 20 Purdue, No. 21 Illinois, and No. 22 Michigan. Michigan State is receiving votes in the poll. 
EUROPEAN TOUR
From May 24-June 6 the Hawkeyes traveled to four different countries as part of the program's first European Tour. With stops in Germany, the Netherlands, Poland, and Ireland, the Hawkeyes squared off with professional and junior national teams to improve their game and bond as a unit. 
NEW FACES
The 2016 roster features five newcomers, including two with collegiate experience. 
Redshirt sophomore Kasey Reuter (OH) transferred from Missouri and joined the Hawkeyes last spring. The Sioux City, Iowa, native appeared in 31 matches with 12 starts as an outside hitter for the Tigers in 2014 before redshirting in 2015. 
Redshirt freshman Meghan Buzzerio (OH/RS) transferred from Arizona to join the Hawkeyes this fall. The Chino Hills, California, native went to Arizona ranked 96th nationally on PrepVolleyball.com's Senior Aces list. 
The Hawkeyes also welcome three incoming freshman including defensive specialists Alexa Ito and Emily Bushman and outside hitter Cali Hoye. 
ATTENDANCE RECORDS/SEASON TICKET SALES
Iowa set two top-10 attendance marks in 2015. The Hawkeyes downed the Cyclones in front of the fifth-largest crowd in program history (2,488) on Sept. 11, before hosting the nationally ranked Huskers on Sept. 23 in front of 2,447 fans — the sixth-largest crowd in program history.
Iowa has sold more tickets in 2016 than it has in each of its previous seasons dating back to 2010. 
In four home matches this season, the Hawkeyes rank 17th nationally in average attendance (1,679). 
IOWA TIES
Head coach Bond Shymansky and six student-athletes — Lauren Brobst, Reghan Coyle, Alexa Ito, Molly Kelly, Alyssa Klostermann, and Kasey Reuter — were born and raised in the state of Iowa. Shymansky, an Iowa City native, earned his bachelor's and master's degrees from Iowa. He played men's volleyball for the UI club team as a student. 
IOWA ON BTN
The Hawkeyes compete live on the Big Ten Network (BTN) or BTN Plus 20 times this season. Iowa's matches at Michigan State on Sept. 23 and verses Minnesota on Oct. 21 will be televised live on BTN. Eighteen Iowa matches will be shown via live stream online through BTN Plus. To see if your cable package gives you access to BTN Plus content, sign up for BTN Plus or learn more about it at visit btn2go.com. 
ON DECK
The Hawkeyes return to Carver-Hawkeye Arena for the Iowa Invitational, Sept. 16-17.