Hawkeye Fan Shop — A Black & Gold Store | 24 Hawkeyes to Watch 2016-17
Editor's Note: The following first appeared in the University of Iowa's Hawk Talk Daily, an e-newsletter that offers a daily look at the Iowa Hawkeyes, delivered free each morning to thousands of fans of the Hawkeyes worldwide. To receive daily news from the Iowa Hawkeyes, sign up HERE.
By RICK BROWN
hawkeyesports.com
IOWA CITY, Iowa — The University of Iowa volleyball team is off to a 6-1 start. Why? The Hawkeyes are doing a better job of using their heads.
 
The team has bought into head coach Bond Shymansky's emphasis on the mental part of the game. And that mental toughness will be tested Friday at 6 p.m. (CT) when the Hawkeyes play at Iowa State.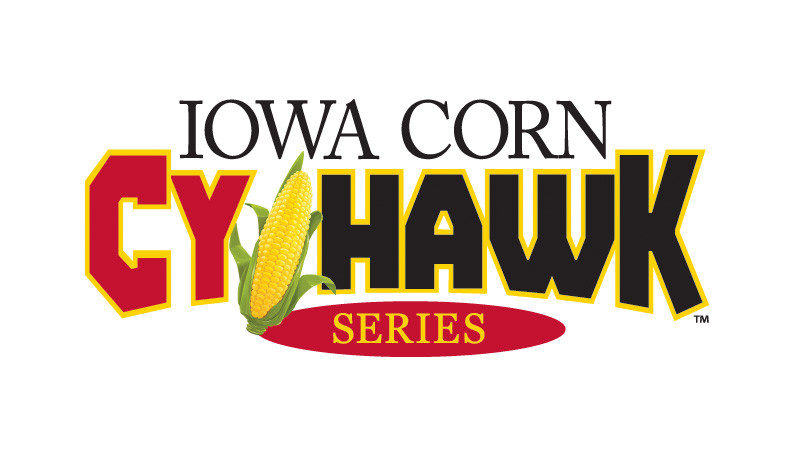 "It's kind of measurement to see where we are right now, and I'm excited to see where we're at and how we're going to do against this team," said Lauren Brobst, a senior from Sioux City.
 
Iowa's soccer team, encouraged by its 5-1 start, will also travel to Ames on Friday to face Iowa State at 8 p.m.
 
"I like the progress that we've seen so far," said head soccer coach Dave Dilanni. "The coming games, starting with Iowa State, will give us a clearer picture of where we are as a program and a team this year."
 
Both in-state contests kick off the Iowa Corn Cy-Hawk Series. The Hawkeyes won both the volleyball match, 3-1, and soccer game, 1-0, last season.
 
 "The in-state rivalry thing makes it such a great opportunity and a heightened moment of intensity," Shymansky said. "It's probably the first great challenge of this season, yet a pretty typical challenge of going into Big Ten gyms all season long. So we need to recognize and be prepared for this type of event and environment."
 
Iowa's victory over the Cyclones last season — 17-25, 25-17, 25-18, 28-26 — opened a lot of in-state eyes.  It was an important step in Shymansky's rebuilding efforts.
 
"We made a statement in that match," said Brobst, who had 17 kills in the victory. "We didn't do so well there two years ago. This year we want to focus on coming out and making a point that we're good enough to play with these teams."
 
Iowa couldn't sustain momentum from the victory over the Cyclones last season, finishing 12-21. Shymansky decided to put an emphasis on the mental side of the game with his team, both during its European Tour over the summer and in preseason practices.
 
It has been an area of improvement this season, though a three-set loss to Butler last Saturday showed it's still a work in progress.
 
"Unfortunately, the best way to learn is usually the toughest way," Shymansky said. "That was a tough way to learn about mental preparation and respecting every opponent.  This weekend will have the same cautionary tale for our group."
 
The Iowa-Iowa State match is part of the Cyclone Invitational. Iowa plays Montana and North Dakota State on Saturday.
 
"We can't weigh the Iowa State match as bigger than the other two, because every win matters," Shymansky said.
 
Dilanni's team has logged five straight victories for the first time since 2013. Rose Ripslinger, a sophomore from Davenport, said better team cohesiveness has played a factor in that positive start.
 
"I would say our chemistry off the field has transferred over to how well we play on the field together," Ripslinger said. "We're more of a unit this year than we've ever been. I think everybody is willing to work hard for everyone."
 
Dilanni has 20 underclassmen on his roster, and he sees growth every day. He points to a 1-0 victory at Missouri after a disappointing 5-3 loss at Creighton in the season opener.
 
"We learned we have some resiliency and some high character individuals and we have a team that is going to fight no matter what the environment," Dilanni said. "All those things are important when you go into a rivalry game, or the Big Ten."
 
Dilanni's team is facing an Iowa State squad that knocked off No. 21 Auburn, 1-0, and Georgia, 2-0, last weekend in Auburn, Alabama.
 
"Playing on the road is always a challenge, for a young team in particular," Dilanni said. "We're playing a team that is playing its best soccer right now, and feeling very good about themselves. And it's a rivalry.
 
"I'm not sure you're going to see the prettiest of games this Friday. It's going to be competitive and kind of a slugfest back and forth. But you're going to see two teams competing at the highest level."
 
Ripslinger is eager to learn where her team is this early in the season.
 
"In this type of rivalry game, anything can happen," Ripslinger said. "It's so intense with the fans and the history we have together. I think it will be a good game on both sides, and I keep going back to the word intensity. It will be a good test for us to be able to stay in it for the whole 90 minutes, and be able to push hard through the whole game."
 
Shymansky said his players probably know more about the Iowa State team than he does.
 
"That's kind of fun," Shymansky said. "That's a good way to have it. I like that we've gotten it back to the point of being a grudge match, and a knock-down drag out (fight). It needs to be that way."
 
Shymansky said his job will be to keep his team on an even keel, so they "don't rock it too hard one way or another." Mental toughness will help when the lights go on.
 
"It will be a grind, and a true test of our mental toughness," Brobst said. "But it's nothing this team can't handle."
About the Author
Rick Brown is a native of Fort Dodge, Iowa, and a University of Iowa graduate. He covered Iowa athletics for the past four decades for the Des Moines Register prior to his retirement in December.