Hawkeye Fan Shop — A Black & Gold Store | 24 Hawkeyes to Watch 2016-17
IOWA CITY, Iowa — Kelsey Laverdiere, associate director of athletics for external relations at Western Illinois University, has been named assistant athletics director for marketing and fan engagement at the University of Iowa.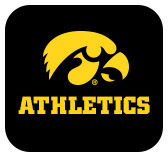 In her new role, Laverdiere will oversee the marketing, advertising, promotions, digital strategies, game day production to deliver impactful sales, engagement and event experiences for Iowa fans.  Additionally, Laverdiere will work to grow the Hawkeyes use of research and data analytics to build effective strategy for each Iowa program.
Laverdiere has been a member of the Western Illinois University athletics staff for five years, previously holding the position of assistant athletics director of marketing and corporate sales.
 
"We are excited to add Kelsey to lead a very talented team in Hawkeye athletics," said Charlie Taylor, associate athletics director for strategic communications and marketing. "Her experience in marketing and game production, coupled with her energy to build relationships with our fans, positions our department for an exciting future."
 
"My family and I are elated to come home to Iowa City. My passion for intercollegiate athletics originated with the University of Iowa," Laverdiere said.  "I want to thank Western Illinois athletics director Matt Tanney and the entire Leatherneck family for an incredible five years in Macomb.  I am grateful for the opportunity to be a Hawkeye and look forward to enhancing the brand and the rich Iowa tradition."
 
At Western Illinois, Laverdiere had oversight of all strategic communications and external engagement for Leatherneck athletics, including athletic communications, marketing and promotions, corporate sponsorships and game day operations.  Laverdiere served as the Senior Woman Administrator, sport supervisor for baseball, softball, men's soccer and women's soccer, in addition to cheerleading and the strength and conditioning staff.
 
Laverdiere established the corporate partnership program and increased revenue by over 400 percent.  Laverdiere spearheaded and expanded the radio coverage of the Leatherneck Sports Network and a partnership with ESPN3.  She developed the department slogan and enhanced the brand for the 19 Division I teams with a successful "Tradition of Tough" campaign in 2016. 
Laverdiere previously worked three years at Winona State University as the associate athletics director for Warrior Athletics, overseeing corporate partnerships, fundraising, marketing, promotions and also serving as the Senior Woman Administrator. She had oversight of the Warrior Sports Network, and was the event coordinator for all athletic functions.
Her career with the Warriors began as the game management director for the department and assistant strength and conditioning coach. Laverdiere then took over as the compliance coordinator, budget director and assistant development director for the department.
 
Laverdiere earned her bachelor's degree in exercise science from Winona State University in 2009, while being named Exercise Science Student of the year. Laverdiere completed her master's degree in educational leadership and sports management from Winona State in 2011.
 
Laverdiere is a native of Iowa City.  She was a standout student-athlete at Regina High School, and was inducted into the Regina Hall of Fame in 2014.  Kelsey and her husband, Ryan, have one daughter, Kya.