Hawkeye Fan Shop — A Black & Gold Store | 24 Hawkeyes to Watch 2016-17
Editor's Note: The following first appeared in the University of Iowa's Hawk Talk Daily, an e-newsletter that offers a daily look at the Iowa Hawkeyes, delivered free each morning to thousands of fans of the Hawkeyes worldwide. To receive daily news from the Iowa Hawkeyes, sign up HERE.
By DARREN MILLER
hawkeyesports.com
IOWA CITY, Iowa — Anthony Gregorio embodies the student in student-athlete.
 
You won't always find his name near the top of University of Iowa cross country finishers, but you will find his name near the top of any academic grading curve. Gregorio, a fifth-year senior, has a perfect 4.0 grade-point average while majoring in mechanical engineering.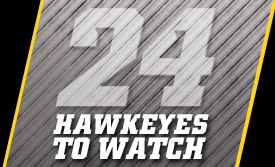 Partial credit for his lofty GPA goes to Taylor Soltis, a fellow engineering major and former roommate/teammate. More credit goes to Gregorio's competitive demeanor.
 
"I was doing alright (academically) when I started off as a freshman, but not that great," Gregorio said. "Then I got competitive with my roommate, because he is an engineering major and he was doing really well. I joked that I was coming to get him in academics. After going at it for a little bit I realized I was starting to understand assignments a lot better and everything started to click."
 
Gregorio was a two-time all-state and three-time all-conference honoree in cross country at Palatine (Illinois) High School. He was a three-time state qualifier and all-conference performer in track and field.
 
As a Hawkeye freshman he competed in the 2012 Big Ten Conference Championships (67th in the 8,000-meter race in 25:28) and the NCAA Midwest Regional (102nd in the 10,000 in 32:54).
 
"I came in as a freshman and was lucky enough to compete in cross country and track," Gregorio said. "I had a decent season. When I came in sophomore year, I was in good shape but I got hurt about the first week of practice. It kept me out a couple months, and I wasn't able to compete."
 
In fall, 2014, Gregorio was one of two Hawkeyes to compete in all seven events, including Big Tens (50th, 24:46.5) and NCAA Midwest Regionals (71st, 31:11.9). He was recognized as Iowa's Big Ten Sportsmanship Award honoree.
 
Last season Gregorio once again competed in all of Iowa's competitions, placing 46th in the Big Ten Championships (24:33.9) and 54th at NCAA Midwest Regionals (31:24.2).
 
During his career as a Hawkeye, Gregorio has trained under three head coaches: Larry Wieczorek, Layne Anderson, and now Randy Hasenbank.
 
"It is an advantage because you get an opportunity to see different coaching perspectives and philosophies and it helps you grow as an athlete," Gregorio said. "It helps you find what is best for you and how to get better in between all that change."
 
Coping with change in athletics helped Gregorio handle unpredictable situations in the classroom as well.
 
"Seeing all that change helped me in academics," Gregorio said. "You realize how to balance a lot more and figure it all out from there. The academics here have been great. The Gerdin Learning Center has been helpful to me and given me an opportunity to work out my thoughts.  I have had coaches supporting me through all that."
 
His current head coach is Hasenbank, who came on board Aug. 5 and immediately noticed Gregorio's commitment to running and academia.
 
"He is a bright young man and an enjoyable guy to be around," Hasenbank said. "He works his tail off and is a high mileage guy who has been committed to the sport. I want him to have a great senior year."
"When I got here I thought I had all this time and now I'm near the end point. I'm excited to give it one last effort and see where I end up. I think our team is going to be good this year and I'm excited to finish with this group of guys." — Anthony Gregorio, UI senior cross country runner 
Gregorio opened the 2016 season Sept. 2 by placing 19th at the Hawkeye Invitational with a 6,000-meter time of 18:42.4. Iowa finished runner-up as a team with 60 points. A week later, the Hawkeye men won the Illinois State Invitational with 44 points and Gregorio placed 83rd with an 8,000-meter time of 26:00.33.
 
"The Big Ten is a competitive conference and we want to be in the top five," Gregorio said. "That puts us in a spot to potentially qualify for nationals through our regional meet.
 
"Personally, I want to be top 20 in the Big Ten because I know that will help propel us toward that finish and I am going to do whatever I have to do for those guys."
 
On a roster highlighted by juniors Ben Anderson and Michael Melchert, Hasenbank doesn't rely on Gregorio being one of the Hawkeyes' top finishers. He views him more as a "role runner" who can lower the team score with strong middle-of-the-pack finishes.  
 
"He's not going to be the fastest guy, so he has to get out there and set a strong pace early, take advantage of his fitness and be a great role player in the top three, four, five guys," Hasenbank said. "He is capable of that. The 8K and 10K distances will suit him well."
 
Gregorio calls the Bill and Jim Ashton Cross Country Course in Iowa City a "hidden gem." It settles his mind when he is running loops on the grassy course west of campus.
 
"I can be with the nature of Iowa, run around, and clear my head," he said. "That's a good place to be."
 
And when you sport a 4.0 GPA, it comes as no surprise that another of Gregorio's favorite spots is the Seamans Center for the Engineering Arts and Sciences.
 
"It is a great place to study, it's always quiet and you have resources and people who can help you," he said.
 
Gregorio has exhausted his track eligibility meaning when the 2016 cross country season ends, so does his collegiate running career.
 
"When I got here I thought I had all this time and now I'm near the end point," Gregorio said. "I'm excited to give it one last effort and see where I end up. I think our team is going to be good this year and I'm excited to finish with this group of guys."
 
The Hawkeyes compete at the Roy Griak Invitational on Sept. 24 in Minneapolis.