Hawkeye Fan Shop — A Black & Gold Store | 24 Hawkeyes to Watch 2016-17 | Regional Preview (PDF) | VIDEO — Madison Waymire
Editor's Note: The following first appeared in the University of Iowa's Hawk Talk Daily, an e-newsletter that offers a daily look at the Iowa Hawkeyes, delivered free each morning to thousands of fans of the Hawkeyes worldwide. To receive daily news from the Iowa Hawkeyes, sign up HERE.
By DARREN MILLER
hawkeyesports.com
IOWA CITY, Iowa — It didn't take University of Iowa junior Madison Waymire long to realize the grass isn't greener south of the state line.
 
Like many adventuresome high school seniors, Waymire was interested in spreading her wings outside of Iowa when she signed a National Letter of Intent to compete in cross country and track and field at the University of Missouri in Columbia, Missouri. She was there for the 2014-15 season.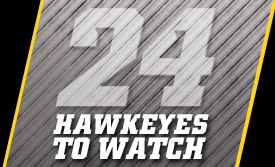 "It came down to me wanting to get out of state and once I got out of state I realized what it was like running for a school that wasn't where I was from," Waymire said. "I wanted to come back and run for Iowa and be proud of where I was from."
 
There were no hard feelings when Waymire left Missouri and the Southeastern Conference for Iowa and the Big Ten. It seemed a logical fit since her father, Pat, was a member of former UI coach Larry Wieczorek's distance crew in 1991.
 
"That was a big connection, we have always been Iowa fans," Waymire said.
 
Waymire's grandfather attended the UI and it was Pat's goal to wear the black and gold one day while he was growing up in Villisca, Iowa.
 
"That was his dream to come to Iowa and be a Hawkeye," Waymire said. "He got the opportunity to run for Wiz and really enjoyed it."
 
Madison graduated from Dallas Center-Grimes (Iowa) High School, where she had three top-six finishes in Class 3A cross country and eight top-three finishes at four state track and field championships. Waymire won back-to-back state championships in the 800-meter run as a freshman and sophomore.
 
The final two years of high school didn't produce the gold medals Waymire desired. There was too much self-imposed pressure that she needed to alleviate. So Waymire found a solution on the hardwood as a bench-warmer for the Mustangs' state tournament basketball team in 2014.
 
"I had some setbacks my junior and senior years with health and injury," Waymire said. "I almost accepted how things were. I can never be complacent because somebody else is going to be working harder."
 
So she turned to basketball, played junior varsity, and reveled in being a super fan.
 
"I was the fun person on the bench. It was one of those things where I was getting stressed about running because I wasn't where I was when I was younger. I needed an outlet to not worry about track all winter. It was my senior year, I needed to have a little fun, and I had friends that went out for basketball. By doing that it made me love running even more." — Madison Waymire
 
Her senior season of track produced a third-place in the 1,500-meter run and fourth place finishes in the 800 and 3,000.
 
Then she was off to Missouri.
 
"I struggled to make the travel roster my freshman year," Waymire said. "That was a big setback for me. I was used to having a team that relied on me and expected me to do well. When I wasn't able to compete, that was a wakeup call that I wasn't doing enough at the level I was at. I was a Division I runner, but I knew I could do better than that."
 
Waymire raced to the front of the pack in her first season as a Hawkeye, leading them in all six cross country races in 2015. She finished 32nd at the Big Ten Championships (21:01.8 over 6,000 meters) and 37th at the NCAA Midwest Regional (21:19.1).
 
During the indoor track season, Waymire led the team in the mile run and also competed at 3,000 meters. She took a redshirt during outdoor, leaving her with one season in cross country (after 2016), three in outdoor track, and two for indoor track.
 
"She is committed and determined and is one of those athletes you never have to ask to do more," UI distance coach Randy Hasenbank said. "A lot of student-athletes aren't willing to take on that additional role of being a leader. It is refreshing to have someone who will embrace that and have no problem performing and leading, whether it's verbal or by example."
 
Waymire opened her junior season by finishing third in the Hawkeye Invitational on Sept. 2 with a 3,000 meter time of 10:21.9. The Hawkeyes won the meet with 47 team points. In the second event — the Illinois State Invitational — the race distance increased to 5,000 meters and Waymire again placed third, this time in 17:55.92. She placed 146th at last weekend's 6,000-meter Roy Griak Invitational in 24:06.
 
"I have some pretty big goals," Waymire said. "I would like to be first- or second-team All-Big Ten and all-regional for sure. I also want to make it out to nationals."
 
The Hawkeyes host a Regional Preview meet Saturday on the Bill and Jim Ashton Cross Country Course in Iowa City. A women's 6,000-meter race begins at 8:30 a.m. (CT) and the men's 8,000-meters starts at 9:15 a.m.
 
To read more about the Regional Preview competition, click HERE.