Hawkeye Fan Shop — A Black & Gold Store | 24 Hawkeyes to Watch 2016-17 | Hawk Talk Monthly — September 2016 | 2016 NCAA Cross Country Regional | Photo Gallery | Men's Results (PDF) | Women's Results (PDF)
IOWA CITY, Iowa — In a wet and rainy Regional Preview competition, the University of Iowa men's and women's cross country teams got their first feel on the course and distance they will be running on in November's NCAA Regional.
The women ran the 6,000-meters, placing third out of six teams while the men ran in a smaller, three team race and won the 8,000-meters handily.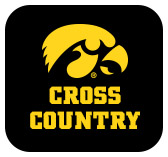 "This a great course," UI head coach Randy Hasenbank said. "With only three men's teams, this became a time trial for them, but I thought they competed well as a group and competed hard. On the women's side, there were a few more teams which helped our women's field. Tess [Wilberding] did a great job and Andi [Shine] is finding her groove."
Iowa had two runners in the top 10 on the women's side. Wilberding led the team, finishing runner up with a time of 21:30 followed by Shine in 10th, posting a time of 21:51. Sophomore Lauren Opatrny recorded a personal best of 21:57, beating her previous time set at the Roy Griak Invitational last week.
"I was happy with the results and not so happy with my time," Wilberding said. "The plan was just to get out front and relax in the beginning and go after it at the end."
As for the men, the race allowed some of the younger runners to showcase their talents. The Hawkeyes had a runner finish 11 of the top 15 spots without junior Michael Melchert or senior Ben Anderson competing.
Adam Jones took the individual title and was running unattached. Jones is a graduate student at Iowa with a year of eligibility left in track.
"This is my first year at Iowa," Jones said. "I ran four years at my other school and so we picked one meet that was local to run in. I was really excited to be out here with the guys."
Sophmore Daniel Soto was the first official Hawkeyes to finish, posting a time of 25:23. He was followed by senior Anthony Gregorio (25:25), freshman Luke Sampson (25:32), and sophomore Ian Eklin (25:34) to round out the top five.
"With so few teams here, it was hard to get into that competitive mindset because we dominated," Soto said. "The plan was to go out, run as a pack, and grind it out towards the end and see what we can do."
The Hawkeyes have a week off before heading to Pre-Nationals in Terre Haute, Indiana.