Hawkeye Fan Shop — A Black & Gold Store | 24 Hawkeyes to Watch 2016-17 | Hawk Talk Monthly — September | Purchase Single-Game Tickets | Golfweek Day Two Results | Third Round Pairings
BURLINGTON, Iowa – Senior Raymond Knoll leads the University of Iowa men's golf team after two rounds of the Golfweek Conference Challenge at Spirit Hollow Golf Course in Burlington, Iowa. The Hawkeyes are at 590 (+14) through 36 holes and in ninth place with one round left to play.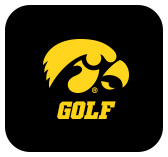 "We made all the same mistakes we made yesterday," said UI head coach Tyler Stith. "We had some penalty shots and made some double bogeys, didn't really give ourselves a chance to post any good scores. We had too many big numbers."
 
Knoll remained composed Saturday, opening with a two-under par 34 on the back nine, making the turn at five-under par for the tournament. He closed out the front nine with a one-over par 37, finishing the day at one-under par 71. Knoll is tied for fourth at 140 (-4; 69,71) heading into Sunday's final round, and sits two strokes out of first place.
 
"Raymond is playing great," said Stith. "He loves this this golf course, it's a shot makers golf course, and he controls his ball really well. He gives himself a lot of birdie opportunities and doesn't make big numbers and that's why he's close to the lead."
 
Sophomore Matthew Walker followed behind Knoll at two-over par 74 for the day. Walker is tied for 32nd, with a 36-hole total of 148 (+4).
 
Senior Carson Schaake carded back-to-back 38's for a four-over par 76 on Saturday afternoon, he's posted four birdies in two rounds. Schaake is at 150 (+6) for the tournament, tied for 38th overall.
 
Freshman Alex Schaake followed close behind his brother, Carson, firing a five-over par 77 for the second round of his first collegiate tournament as a Hawkeye. Schaake is in a tie for 43rd overall at 152 (+8).
 
Junior Sam Meuret rounded out second round play for the Hawkeyes, posting a five-over par 78. He is tied for 53rd overall at 156 (+12) for the tournament.
 
"I think the wind may be a little different tomorrow," added Stith. "I think the wind may be out of the west tomorrow, making some of the holes play a little differently. We just have to take care of our ball and not make so many big numbers."
 
Kansas leads the Golfweek Conference Challenge at 563 (-13) after 36 holes. San Jose State is in second place at 569 (-7), Lipscomb University and Texas A&M follow in third at 570 (-6).
 
Play at the Golfweek Conference Challenge concludes Sunday with a shotgun start at 8:30 a.m. (CT). Live scoring is available at golfstat.com.