Hawkeye Fan Shop — A Black & Gold Store | 24 Hawkeyes to Watch 2016-17 | Hawk Talk Monthly — September | Results (PDF)
EAST LANSING, Mich. — The University of Iowa men's and women's swimming and diving teams opened the 2016-17 season with a double-dual split.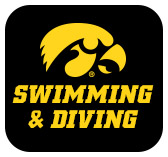 The Hawkeye men posted Big Ten dual victory over Michigan State, 130-87, and fell to Notre Dame, 151-72, while the Hawkeye women downed the Spartans, 147-76, and fell to the Irish, 154-69.
 
With events being held outdoors at MSU's Charles McCaffery Pool, the Hawkeyes battled through tough weather conditions throughout the night, swimming in low temperatures and rain.  All diving events took place indoors.
 
"We had some great racing and diving last night (exhibition) and today," said UI head coach Marc Long.  "The environment was fun, exciting, and competitive.  We're excited for the season."
 
The competition started off strong, with both the men and women notching second and third place finishes in the 400-medley relay.  Junior Meghan Lavelle, senior Emma Sougstad, junior Tereysa Lehnertz, and freshman Hannah Burvill swam to a time of 4:24.63. 
 
For the men, it was sophomore Kenneth Mende, freshman Weston Credit, junior Jerzy Twarowski, and sophomore Jack Smith clocking in at 3:59.14.
 
In the 800-meter freestyle, sophomore Abbey Schneider recorded the top time for the women, posting a second-place time of 9:24.16.  Senior Serena Wanasek touched in fifth in 9:35.92. Leading the way for the men was junior Chris Dawson, clocking in at 8:54.04 to finish fourth.
 
Sougstad and Mende, both NCAA qualifiers a year ago, led Iowa in the 200-meter IM.  Sougstad took second place with a time 2:26.15, while Mende was fourth, clocking in at 2:15.10.
 
Junior Tereysa Lehnertz notched Iowa's lone first place finish of the night, clocking in at 2:19.54 in the 200-meter butterfly.
 
Several Hawkeye freshmen made their collegiate debuts on Friday. 
 
Burvill added to her impressive night, swimming to a third-place finish in the 200-meter freestyle in a time of 2:08.97.  Forrest White swam to second and third place finishes in the 200 free (1:58.45) and 200 back (2:11.76).  Michael Tenney led Iowa with a second place finish in the 400  free (4:13.32), while Isaak Webb posted Iowa's top time in the 200 breast (2:31.53).
 
Both the Hawkeye women and men ended the night on a high note with strong finishes in the 400-meter freestyle relay.  Freshman Amelia Armstrong-Grant, sophomore Kelly McNamara, Lehnertz, and Wanasek swam to a second-place finish (4:05.46) for the women.
 
Smith, sophomore Matt Kamin, freshmen Joe Myhre and Steve Fiolic notched a third-place finish (3:38.25) for the men. 
 
In the diving well, sophomore Jacintha Thomas (272.85) and senior Brandis Heffner (302.95) notched wins off the 1-meter.  Heffner also placed second off the 3-meter with a score of 297.40. Freshman Olivia Dopkiss made her collegiate debut, diving to a second-place finish off the 3-meter with a score of 291.25.  Thomas followed in third place at 283.35.
 
The Hawkeyes are back in action next week, host their annual intrasquad meet at the UI Campus Recreation and Wellness Center Natatorium. The meet is scheduled for Oct. 8 at 9 a.m. (CT), and is open to the public and free of charge.