Hawkeye Fan Shop — A Black & Gold Store | 24 Hawkeyes to Watch 2016-17 | Hawk Talk Monthly — Oct. 2016
IOWA CITY, Iowa — The University of Iowa Student-Athlete Academic Services has recognized junior Michael Melchert and senior Tess Wilberding as September's male and female student-athletes of the month.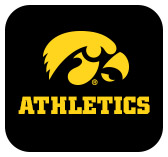 Voted on by their peers, this honor recognizes those student-athletes who have excelled not only in their sport, but in the classroom as well.
 
Melchert placed among Iowa's top 10 all-time performers in his first race in 2016.  The Monticello, Iowa, native broke an 11-year old record in the 6,000-meters at the Hawkeye Invitational on Sept. 2 with a time of 18:12 — six seconds faster than the previous record.  Melchert also notched a fourth-place finish at the Illinois State Invite on Sept. 9.
 
In her final season as a Hawkeye, Wilberding has excelled to start the year.  She recorded her first career win at the Hawkeye Invite on Sept. 2 and was runner-up a week later at the Illinois State Invite.  Wilberding, a native of Troy, Michigan, has been Iowa's top performer in each event this season, placing in the top three overall in three of Iowa's four races.  Wilberding ranks fifth on Iowa's top 10 all-time performances in the 3,000-meters, clocking in at a time of 10:20.4.