Hawkeye Fan Shop — A Black & Gold Store | 24 Hawkeyes to Watch 2016-17 | Hawk Talk Monthly — Oct. 2016 | 2016 NCAA Cross Country Regional | Men's Results (PDF) | Women's Results (PDF)
PEORIA, Illinois — The University of Iowa men's and women's cross country teams competed in the first of two races this weekend. Underclassmen highlighted the day with 11 career-bests at the Bradley Classic on Friday afternoon.
With half the team in Terre Haute, Indiana, for Pre-Nationals tomorrow, the underclassmen got a chance to race with 11 freshmen and five sophomores competing on the Newman Golf Course.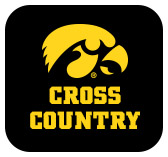 The team set 11 career-bests during both races. This was the second time this season the women have raced 6,000-meters and the third time the men have ran 8,000-meters. As a team, the men finished 16th overall and the women were 24th.
A total of six freshmen ran on the women's side. The team was led by a pair freshmen in Claire Dupuis, who finished 40th overall with a career-best 21:49, and Julie Hollensbe (22:38), who finished 109th.
Sophomore Ashley Espinosa (23:12), freshman Marlie Houston (23:15), freshman Lauren Gibbs (23:28), freshman Macie Weber (23:34), sophomore Abby Sears (24:43), and sophomore Elizabeth Niedert (24:53) rounded out a long list of personal bests.
The men's 8,000-meters saw four more Hawkeyes run to career-bests, starting with freshman Nathan Mylenek, who placed 30th with a time of 25:10. Freshman Brandon Cooley was the second Hawkeye to cross the finish line. He ran a career-best 25:35 to a 66th place finish.
Sophomores Cole Mullins (26:16) and Kallin Khan (26:35) also notched career-best times.
The Hawkeyes race in the second time in as many days Saturday in Terre Haute, Indiana, for Pre-Nationals. First race is set for 11 a.m. (CT).