Hawkeye Fan Shop — A Black & Gold Store | 24 Hawkeyes to Watch 2016-17 | Hawk Talk Monthly — Oct. 2016
Editor's note:24 Hawkeyes to Watch is a feature released Monday, Aug. 1, highlighting one athlete from each of the 24 intercollegiate sports offered by the University of Iowa. More than 700 talented student-athletes are currently busy preparing for the 2016-17 athletics year at the UI. Hawkeyesports.com will introduce you to 24 Hawkeyes who, for one reason or another, are poised to play a prominent role in the intercollegiate athletics program at the UI in the coming year.
By JAMES ALLAN
hawkeyesports.com
IOWA CITY, Iowa — It was a summer day in Germany in the late 1990s when the course of Kenneth Mende's life changed.
 
Mende, a redshirt sophomore on the University of Iowa men's swimming and diving team, was 4-or-5 years old at the time when he went to a friend's house to beat the heat.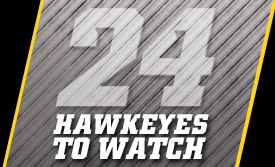 He nearly drowned.
 
"I didn't have anything that would help me stay on top of the water," recalled Mende. "They gave us something (to float on) and I liked the water, but somehow it flipped over and I couldn't get back around.
 
"My dad saved me. I don't remember much, but he has told me stories."
 
The experience shook Mende's parents, and shortly thereafter, they enrolled Kenneth in swimming lessons. He registered for a club team in 1999 and was in all-out competition mode by 2005 or 2006. 
 
"The person who taught me to swim noticed that I had potential," said Mende. "He said 'Why not try it?' I never got rid of it."
 
Mende swam throughout high school at Sportgymnasium Chemnitz in Chemnitz, Saxony, Germany, competing as a top backstroke and individual medley competitor. He was a German Open qualifier and swam times as a prep that would have been fast enough to land in the top 10 all-time in Iowa history.
 
When Mende's junior year rolled around, he had a decision to make. Academics would be his sole focus if he stayed in Europe for college or he could go the American university route and combine swimming and academics.
 
"I wasn't done with swimming yet," said Mende. "I sat with my parents and sister and we talked about my options of coming to the United States or staying at home where I could study but not swim at the same level I am now.
 
"I registered for an agency in Germany and they helped me get into contact with coaches all over the country."
"It was a great freshman year, but we think there is a lot more to come. He has been successful and is working on his little things like his transitions and turns.  Things like that will help take him to the next level. Kenneth is dedicated with how he takes care of himself, academically he is on the ball, and he's driven. We only see him going up and getting better and better."  — UI head coach Marc Long
 
The Internet, Skype, and Facetime became Mende's resource when it came to learning about the University of Iowa from halfway across the world. 
 
"(UI assistant coach) Nathan Mundt did a great job recruiting me," said Mende. "Since I didn't do a recruiting trip, it was mostly him and the feeling I had about the university and coaching staff that I had been in contact with (at Iowa) that led me to the University of Iowa."
 
After working through NCAA eligibility barriers, Mende joined the Hawkeyes at the start of the 2015 spring semester. He arrived in Iowa City on Dec. 26, 2014.
 
"It was overwhelming," he said of his arrival. "Overall the adjustment was a lot easier than I expected. I had never lived in a different language or been in the U.S. before, so I had to adjust quickly and the team helped me as much as it could."
 
Mende redshirted during the spring semester. He trained with the team but didn't compete. He watched as the UI hosted 2015 Big Ten Men's Championships and 2015 NCAA Men's Championships.
 
"It was a bummer (not being able to compete), but I made the best out of it," he said. "I told myself every day when I saw guys competing at meets, that next year, you will be there. It made me hungry seeing (the athletes) at the NCAAs — David Nolan broke 1:40 (in 200-yard IM) and Ryan Murphy went 1:36.77 in the 200 back. 
 
"I wanted to be there."
 
UI head coach Marc Long says Mende's redshirt year was a challenge, but it worked out in the long run. It gave Mende a chance to acclimate to a new culture and adjust to the Iowa program.
 
"It ended up being a blessing," said Long. "He handled it well and it has impacted the team by waiting a little bit."
 
Mende entered the 2015-16 season as the team's top backstroker and he lived up to his billing.  He swam the opening leg of the NCAA-qualifying 200-medley and 400-medley relays and led the team in 100 back (47.19), 200 back (1:43.87) and 200 IM (1:49.12).  
 
The 400-medley relay swam a school record and earned a bronze medal at the Big Ten Championships and individually, Mende posted the third-best time in school history in the 100 back, the fourth-best time in the 200 back, and the eighth-best time in the 200 IM.
 
"It was a great freshman year, but we think there is a lot more to come," said Long. "He has been successful and is working on his little things like his transitions and turns.  Things like that will help take him to the next level.
 
"Kenneth is dedicated with how he takes care of himself, academically he is on the ball, and he's driven. We only see him going up and getting better and better."
 
Mende was grateful to experience the NCAA Championships as part of the relays last season, but he wants to earn a spot by himself in 2017.
 
"I am thankful for our relay to have qualified," he said. "It made me hungry. I know I want to be there this year again, but I want to qualify by myself."
 
Long believes the NCAA experience in Atlanta was important for Mende moving forward.
 
"You realize when you get there how elite of a meet it is," Long said. "In some ways it is the world's most elite meet because there are so many international swimmers and Olympians. Getting that experience, now he can see himself scoring there.  That's the next step."
 
Mende has big goals. He doesn't want to just qualify for the NCAA Championships, he wants to medal.  He also wants to medal at the Big Ten Championships and help the team move up the conference standings.
 
Mende knows it is going to require hard work and an all-encompassing lifestyle.
 
"When I first got here I was like every high school swimmer where there are days you don't want to do it and you just go through the motions," he said. "Now I am more focused on what I am doing and I care more about what I am doing around it.
 
"(Coach Long) tells us every day it's not what we do at the pool, it's what we do out of the pool."
 
It is what has set Mende apart and what has put him on the path to being one of the Hawkeyes' team leaders.
 
"Kenneth is turning into a model student-athlete," said Long. "He is dedicated so every day he is going to bring his best.  He is going to bring people with him and that's important when you're building a team."