Hawkeye Fan Shop — A Black & Gold Store | 24 Hawkeyes to Watch 2016-17 | Hawk Talk Monthly — Nov. 2016 | 2016 NCAA Cross Country Regional | Photo Gallery | Women's Results (PDF) | Men's Results (PDF)
FALCON HEIGHTS, Minn. — The University of Iowa cross country teams began the postseason with a couple of cold races Sunday morning in Minneapolis.
The women (318) finished 11th and the men (341) placed 12th.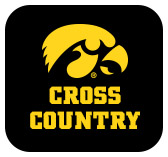 "Obviously, the results that we earned today are not what we have been working toward," UI head coach Randy Hasenbank. "Neither squad was able to establish a front runner so that team scores were inflated."
The women's 6,000-meters was first. Senior Tess Wilberding paced Iowa for the sixth straight race, finishing in 47th place (22:30). Sophomore Andrea Shine (22:50) recorded a 66th place finish and freshman Claire Dupuis (23:06) was 74th.
"On the women's side we had three freshmen and two sophomores in the lineup," Hasenbank said. "I think the meet was an eye opener for them. They needed the experience, they will eventually get much, much better."
"There is a lot of work to do on both sides," Wilberding said. "Hopefully next meet we will show more of our potential."
"We definitely aren't happy with the results," senior Ben Anderson said. "Moving forward we are going to get ourselves ready for Regionals that we happen to host."
Junior Madison Waymire (23:09), sophomore Lauren Opatrny (23:10), senior Kelly Breen (23:53), and freshman Julie Hollensbe (24:16) rounded out Iowa's top seven.
On the men's side, Anderson led the Iowa charge with a 54th place finish (25:45). Sophomore Ian Eklin (26:15) and junior Daniel Gardarsson (26:28) finished second and third, respectively.
"Six of the nine men were freshmen and sophomores. We did not respond well to the opportunity and as a team we did not compete well overall," Hasenbank said. "The men's team suffered a few key injuries that we did not recover from. I would expect a very motivated group of men moving forward."
Senior Kevin Docherty returned to his home state of Minnesota and set a season best 26:33 in his third race of the year.
Sophomore Bailey Hesse-Withbroe (26:45), senior Anthony Gregorio (26:55), and freshman Nathan Mylenek (26:57) cracked the team's top seven finishers.
"The thing we can take away from this is that we need to take a negative and turn it into positive," Anderson said. "We need to take how we feel after this and channel it into positive energy and have it motivate us."
Next, the Hawkeyes host the NCAA Midwest Regional on Nov. 11 in Iowa City.