Hawkeye Fan Shop — A Black & Gold Store | 24 Hawkeyes to Watch 2016-17 | Hawk Talk Monthly — Oct. 2016 | Team Leaderboard
WILMINGTON, N.C. – The University of Iowa women's golf team concluded competition at the Landfall Tradition on Sunday with a tenth overall finish. After posting a first-round 297 (+9) on Friday, the Hawkeyes improved in the second round with a 293 (+5) on Saturday. Sunday, the squad finished with a third-round 297 (+9). Iowa finished with a three-round total of 887 (+23).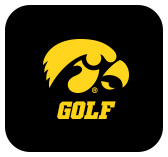 Wake Forest and South Carolina tied for first-place in the tournament, tallying a three-round 859 (-5). Furman placed in third with 866 (+2).
 
"I am really proud of the progress our team has made this fall," said head coach Megan Menzel. "We have made steady improvement, and this was a great experience for us this week to compete against the best teams in the country."
 
The weekend was filled with personal bests for Sophie Liu, who carded the best finish for Iowa. The freshman registered a three-round total of 221 (+5), her lowest 54-hole score to date, and posted rounds of 74, 71, and 76. The second-round score marks her career best. Liu made par on 11 holes, birdied on holes ten and 17 in the third round and concluded the weekend tied for 25th.
 
Morgan Kukla, with the second-best finish of the day for the Hawkeyes, also had a weekend full of personal bests. The junior tallied a total of 224 (+8) – a new career 54-hole low and a 3-stroke improvement from her previous record. She posted rounds of 73,79, and 72, crushing her previous 18-hole low of 74. Kukla finished the tournament tied for 33rd, making par on 12 holes and carding three birdies in the third round.
 
"Morgan has worked so hard and continues to improve," said Menzel. "She had a big week with her two best rounds as a Hawkeye."
 
Jessica Ip finished just behind her teammate, tied for 37th. The junior tallied a total 225 (+9). She improved each day in the tournament with rounds of 76, 75, and 74. Ip finished third-round action with 16 holes at or below par, including birdies on holes four, six and 12.
 
Rounding out the Hawkeyes were senior Jessie Sindlinger and sophomore Shawn Rennegarbe with a three-round total of 227 (+11) each. The pair tied for 52nd. Sindlinger posted rounds of 80, 72, and 75, registering 14 holes at par and making birdies on holes 13 and 14 in the third round. Meanwhile, Rennegarbe carded rounds of 74, 75, and 78, making par on 12 holes and garnering birdies on holes three and 12 in the final round.
 
 
"It has been great to see this team come together this fall, and they are looking forward to continuing to improve during the off-season," said Menzel. "I know they will be ready together to have a strong spring season."
 
The Hawkeyes resume action in the spring at the Central District Challenge in Port St. Lucie, Fla. on Feb. 20-21.