Hawkeye Fan Shop — A Black & Gold Store | 24 Hawkeyes to Watch 2016-17 | Hawk Talk Monthly — Dec. 2016
Editor's Note: The following first appeared in the University of Iowa's Hawk Talk Daily, an e-newsletter that offers a daily look at the Iowa Hawkeyes, delivered free each morning to thousands of fans of the Hawkeyes worldwide. To receive daily news from the Iowa Hawkeyes, sign up HERE.
By SAM STYCH
hawkeyesports.com
IOWA CITY, Iowa — With a total of eight points being awarded between four events this week, the winner of the annual Iowa Corn Cy-Hawk series will become a little clearer.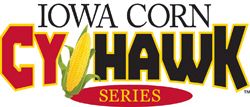 Following a Hawkeye victory in women's basketball on Mediacom Court on Wednesday night, Iowa leads the team standings midway through the 2016-17 athletic season, 8-7. The men's teams will square off Thursday evening before the wrestling programs round out the weekend Saturday night. 
 
The Hawkeyes and Cyclones also have a Friday night date at the Campus Recreation and Wellness Center Natatorium.
 
The Iowa-Iowa State rivalry hits home for UI head coach Marc Long.
 
"I grew up in Iowa, so I think I understand the rivalry a little better than some others," said Long, who is currently in his 13th season as the Hawkeyes' head coach. "We always have to talk to the freshmen from out of state and fill them in on what this rivalry means to the state.
 
"Regardless of times and performances, this is a big deal for the state. If you've ever been to a competition on either campus, you can feel the intensity and it's a lot of fun. This is another big opportunity for us."
 
For the senior class, Friday night marks the final battle for state bragging rights. Senior Emma Sougstad says the expectations are clear — give it your all and win.  
 
"There is a definite rivalry between the two programs, which makes for a cool environment that produces some fast swimming," said Sougstad, a school record holder in nine events. "I'm excited for the team to step up against another quality program and race to the finish. We have been working so hard and now it's time to showcase it."
 
It has been more than two weeks since the Hawkeyes last competed, so the training has been amped up to another level.
 
"It has been a great week for us," said Long. "We had a good week of training, and from a physical standpoint, the team is in great condition. We're happy with where we are right now."
 
Iowa won 15 events en route to a 198-101 victory last season in Ames. It was the Hawkeyes' sixth straight Iowa Corn Cy-Hawk Series victory.
 
Long knows it's a new year and Friday will present a new set of challenges.
 
"I have always respected Iowa State's coaching staff," said Long. "They do a good job of preparing their athletes for every meet. They're going to bring their best, so we have to be prepared for that. I expect them to bring their best effort of the year and we're going to have to top that."
 
Action begins at 6 p.m. (CT) from the CRWC Natatorium. Admission is free and the first 100 fans will receive a free beach ball.
Iowa Corn Cy-Hawk Series
The 2016-17 academic year marks the sixth year Iowa Corn has sponsored the Cy-Hawk Series, which tracks the head-to-head match-ups between the two universities, with each victory earning points toward the overall series championship. Iowa Corn developed the CORN: IT'S EVERYTHING campaign to educate consumers about all the amazing things that come from corn. Corn is used to make more than 4,000 everyday products — everything from bacon cheeseburgers, to soap and lipstick, fireworks and even fuel for your vehicle. It all contains corn and is grown by farmers in our great state.