Hawkeye Fan Shop — A Black & Gold Store | 24 Hawkeyes to Watch 2016-17 | Hawk Talk Monthly — Jan. 2017
Editor's Note: The following first appeared in the University of Iowa's Hawk Talk Daily, an e-newsletter that offers a daily look at the Iowa Hawkeyes, delivered free each morning to thousands of fans of the Hawkeyes worldwide. To receive daily news from the Iowa Hawkeyes, sign up HERE.
By SAM STYCH
hawkeyesports.com
IOWA CITY, Iowa — Growing up, swimming wasn't the only sport University of Iowa senior Brandon Farnum was passionate about.
 
Riding dirt bikes began as a hobby at an early age for Brandon and his father, Mike.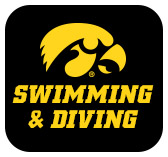 "My dad bought me my first bike when I was 2-years old and we started racing when I turned five," said Farnum. "I raced all over the country for 13 years, competing in local and national races."
 
Farnum, a native of Red Oak, Iowa, competed in local Motocross events in his early years of riding. After winning two championships in four years, he decided it was time for a different challenge and he switched to hare scramble racing where he continued to excel.
 
Hare scramble is a form of off-road motorcycle racing, similar to mountain bike racing, but for dirt bikes. Courses vary in distance — about 6-12 miles long — and races can last up to two hours in length, taking place in wooded or rugged natural terrain.
 
"I had a lot of success on the dirt track during my 13 years of racing," said Farnum, who has four Off-Road Motorcycle and ATV National Championships and seven state titles to his name. "My parents would take me all across the country to find the best competition. My dad and I would leave on a Thursday night for a race that might be in North Carolina and we would drive on minimal sleep until we got there on Friday."
 
Although Farnum endured loads of success racing at the local and national levels, he decided to call it quits once he realized he had a chance to swim at the collegiate level. He shifted all of his time toward swimming, which eventually led to him earning a scholarship at the University of Iowa.
 
Though Farnum's sole focus is on completing his Hawkeye swimming career, he still tries to find some time to ride when he gets the chance. But with swimming having top priority, the opportunities to ride are limited.
 
"I only get to ride a few times a year now," said Farnum, who owns a Yamaha 250x. "I only get on the bike when we have breaks from swimming. I just have fun and try not to take any unnecessary risks that could lead to a potential injury.
 
"I would like to get back into racing after swimming, but for now, I am focused on reaching my swimming goals during my last season as a Hawkeye."
 
Farnum isn't the only Hawkeye swimmer with an admiration for dirt bikes.
 
"One of my teammates, Jackson Halsmer, also follows dirt bike racing and did some racing growing up," said Farnum. "We have ridden together before at his house for fun. We both like to watch the nationals on television and keep up with what is going on in the industry. My other teammates know that I like dirt bikes, but that's probably it."
 
In the pool, the two-time Academic All-Big Ten honoree has competed in four meets for the Hawkeyes this season. The sprinter is a member of three of the top-10 fastest 200-free relays in school history.