Hawkeye Fan Shop — A Black & Gold Store | 24 Hawkeyes to Watch 2016-17 | Hawk Talk Monthly — Feb. 2017 | Dual Notes — vs. Northern Iowa/Western Illinois (PDF)
Editor's Note: The following first appeared in the University of Iowa's Hawk Talk Daily, an e-newsletter that offers a daily look at the Iowa Hawkeyes, delivered free each morning to thousands of fans of the Hawkeyes worldwide. To receive daily news from the Iowa Hawkeyes, sign up HERE.
By JAMES ALLAN
hawkeyesports.com
IOWA CITY, Iowa — Freshmen are making an impact for the University of Iowa swimming and diving program in 2016-17 just like they hoped they would. The Hawkeye newcomers rank among the top three on the team in 17 individual events.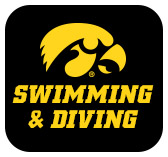 Distance freestyler Michael Tenney has the men's team's top times in the 500 and 1,000 free, while Weston Credit leads the team in the 200 breaststroke. Freshman sprinter Hannah Burvill paces the women's team in the 50 free, 100 free, and 200 free with three NCAA "B" qualifying times and a school record and
 
Freshman Allyssa Fluit has the top time in the women's 500 free, while diver Thelma Strandberg leads the women off both the 1-meter and 3-meter springboard.
 
"I like having the role of coming in and having a purpose," said freshman backstroker Forrest White. "I think a lot of the freshmen alongside me love that, too. I know we love to race. On hit days in practice and in 100s off the blocks, you can count on the freshmen to push everyone else.
 
"That's a fire we need to keep going because it's contagious and it helps out everyone on the team.  I think our freshmen class will have a big impact for years to come."
 
Freshman Joe Myhre says the key to his development and contributions in his first season has come from positivity.  The Illinois native ranks in the top five on the team in 50, 100, and 200 free.
 
"I came into this season with an open mind and was looking at everything from a positive angle," said Myhre. "I was hoping to contribute as a teammate and score as many points as possible. I try to do my best every day."
 
White swam a pair of season-bests in the 100 and 200 back in Iowa's dual victory over Northwestern on Jan. 21. He is second on the team in the 100 (49.97) and third in the 200 (1:48.72).
 
"We weren't rested, tapered, or shaved, so for me to almost be able to go lifetime best and swim season-bests was a good indication for what is to come for the championship season," said White. "I feel like these meets leading up to Big Tens are confidence boosters to show that you have been working hard and putting in the work. At Big Tens, I think that will show."
 
After hosting Northern Iowa and Western Illinois on Feb. 3 in the final dual competition of the year, the Hawkeyes' championship season begins Feb. 15-19 when the women travel to West Lafayette, Indiana, for the 2017 Big Ten Championships.  The men's conference meet will take place in Columbus, Ohio, from Feb. 22-25.
 
"I want to be scoring at Big Tens and qualifying for NCAAs," said Myhre. "Those might be lofty goals, but in the end, it's about getting your hand on the wall first.  Our team right now, that's what characterizes our team right now; we get in and race."
 
White says the key to his first championship season will be to stay relaxed and enjoy the competition.
 
"I want to go into Big Tens and swim by best," he said. "I want to take it all in and have fun because if you have fun, you swim fast. I know there will be a lot of pressure, but I can't let it get to me. I have to trust in my training and coaches and go in with the expectation to have fun, leave it all in the pool, cheer on my teammates, and go for it."