Hawkeye Fan Shop — A Black & Gold Store | 24 Hawkeyes to Watch 2016-17 | Hawk Talk Monthly — Feb. 2017 | VIDEO — Alexis Hernandez
Editor's Note: The following first appeared in the University of Iowa's Hawk Talk Daily, an e-newsletter that offers a daily look at the Iowa Hawkeyes, delivered free each morning to thousands of fans of the Hawkeyes worldwide. To receive daily news from the Iowa Hawkeyes, sign up HERE.
By DARREN MILLER
hawkeyesports.com
IOWA CITY, Iowa – For the last 18 months, University of Iowa junior Alexis Hernandez has approached life, academics, and the sport of track and field with a fresh perspective. The new sense of purpose corresponds with the birth of her daughter, Peyton.
 
It is little wonder that the three-time All-American and Big Ten champion earned the team's Inspiration Award at a banquet in December.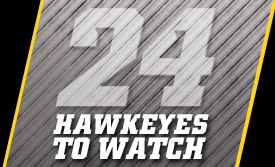 "If I wasn't a mother I might not be the athlete I am right now," Hernandez said. "It has given me a reason to go out and push myself every day. If I have to leave Peyton when I travel (to meets), I have to make the most of it. I can't just step on the track and not do my complete job."
 
Peyton was born August 23, 2015, prior to mom's third academic year at the UI.
 
Hernandez posted notable pre-Peyton times. As a freshman in 2014, the 400-meter specialist ran the third leg on the 4×400-meter relay at the NCAA West Preliminary. She set college PRs in the 200 (24.62 outdoors), 400 (54.91 indoors), and 600-yard run (1:33.97 indoors).
 
Last season she ran 24.67 in the 200, 53.82 in the 400, and was leadoff on Iowa's 4×400 relay that set a school record in 3:30.97 at the NCAA West Preliminary in Lawrence, Kansas.
 
"She saw something in front of her," Iowa associate head coach Clive Roberts said. "When Peyton was born, she said she still had aspirations to be one of the best. Every day she puts right in front of left and has gotten better."
 
It took Hernandez a few years to sprint to track's starting line. She was a competitive figure-skater for 10 years, then decided to try track and field before enrolling at San Diego's Mount Carmel High School. Her introduction to running came years earlier on neighborhood streets with her brother and cousins. There was financial incentive.
 
"They would put a dollar at the end of the street, so I would race them and I always beat the boys," Hernandez said. "I was like OK, maybe I'm kind of fast or maybe they're just slow."
 
She was kind of fast.
 
In high school, Hernandez was a three-time all-league selection who was twice named team MVP. A four-year California state qualifier, she placed eighth as a junior in the 400-meter dash (56.13). Hernandez started the Sundevils' 4×400-meter relay as a freshman and qualified in the open 400 the next three seasons.
 
Hernandez intended to stay close to home and attend the University of Arizona until being swept away on her official visit to Iowa.
 
"I enjoyed the girls and I had never been to a college campus like this," Hernandez said. "It was exciting and I liked the small college-town feel. My heart told me to go to Iowa and I have been happy since."
 
Hernandez is a senior academically and will graduate in May with a degree in sociology and a minor in human relations. This will be her final season competing for the Hawkeyes; mother and daughter intend to move closer to family in San Diego after the season.
 
"My ultimate goal is to be a juvenile probation officer," Hernandez said.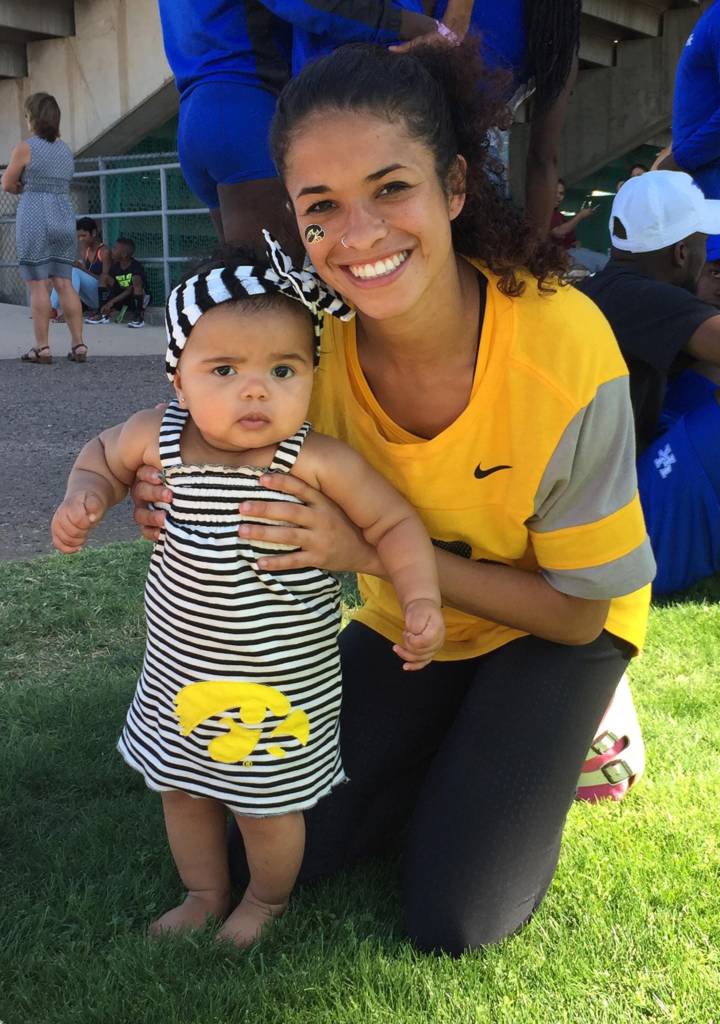 An impressive start to the indoor season continued for Hernandez on Jan. 28 when she won the 400-meter dash in 54.93 at the Black and Gold Premier in the University of Iowa Recreation Building. A few hours later she ran third leg on Iowa's victorious 4×400 relay. Last weekend Hernandez lowered her team-leading 400 time to 54.67 at the Meyo Classic in South Bend, Indiana.
 
"She should be one of the better girls in the conference based on the things she has shown in practice," Roberts said. "From a preparation standpoint, she has been phenomenal."
 
Being organized is a must, not an option, for Hernandez. Her hectic schedule of being mother, student, and athlete is meticulously logged in a planner and followed with precision. A support system of coaches, friends, and family has helped her balance the craziness of daily life for a single mom.
 
"The most challenging part is leaving Peyton when we travel," Hernandez said. "Every meet, I think about her when I warm up; when I get in the blocks I tell myself this is for Peyton," Hernandez said. "If not for myself or my team, it is for Peyton, and that gets me going. When I don't do well, I feel like I have not only failed myself or my team, but I failed her, so I try to give it my all every time so I don't leave with regret or doubt."
 
Hernandez wasn't sure she would or could return to the track after Peyton was born. But she was inspired by pole vaulter Demi Payne and middle distance runner Alysia Montano, both successful post-collegiate competitors…and mothers.
 
When Hernandez returned to the team, her sprint times weren't consistent with past results. She was discouraged, yet patient, and never wavered from the course set by Roberts. Even when she returned to par physically, Hernandez had to conquer mental obstacles.
 
"I would get on the line and look at my opponents and know they all competed last season," Hernandez said. "Meanwhile, I was at home six months pregnant."
 
Someone with her experience and past success can be expected to be a leader, and in the case of Hernandez, she is also a role model.  
 
"She has shown the younger athletes how to be an adult and grow up," Roberts said. "She has had life-changing things come her way and has dealt with it with grace. She has shown them how to deal with situations that we are all going to encounter in life. She has shown them a sense of how to do it and how to succeed doing it."
 
The Hawkeyes will split teams this weekend at the Iowa State Classic in Ames, Iowa, and the Tyson Invitational in Fayetteville, Arkansas.