Hawkeye Fan Shop — A Black & Gold Store | 24 Hawkeyes to Watch 2016-17 | Hawk Talk Monthly — Feb. 2017
Editor's note: 24 Hawkeyes to Watch is a feature released Monday, Aug. 1, highlighting one athlete from each of the 24 intercollegiate sports offered by the University of Iowa. More than 700 talented student-athletes are currently busy preparing for the 2016-17 athletics year at the UI. Hawkeyesports.com will introduce you to 24 Hawkeyes who, for one reason or another, are poised to play a prominent role in the intercollegiate athletics program at the UI in the coming year.
By RICK BROWN
hawkeyesports.com
IOWA CITY, Iowa — A recruiting contact in Florida alerted University of Iowa women's golf coach Megan Menzel to a prospect named Sophie Liu.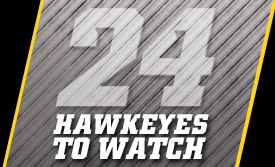 "I was able to get down there pretty quickly to watch her play," Menzel said. "A lot of times, you'll go down and evaluate someone and you might watch them for a few holes. From the time I put my eyes on Sophie, I tried to watch every hole possible. I knew that she would be a difference maker for us."
 
Menzel pulled out all the stops to sign the native of British Columbia, who was playing at Viera High School in Melbourne, Florida.  Menzel knew Liu was a Tina Fey fan. On the day Sophie was to make her college choice, Menzel sent her a text message with a picture of Fey and the words, "Sophie Liu is going to… Iowa."
 
Later that day, Liu went into her closet — "I needed to find a quiet place," she said — and called Menzel.
 
"I told her, 'I would love to play for you,'" Liu said.
 
Liu made an immediate impact during the Hawkeyes' fall season. She led Iowa in three of four tournaments, and finished in top 10 three times. Her best round was a 71 in the second round of the Landfall Tradition in Wilmington, North Carolina.
 
"I practiced hard, and coach helped me a lot adjusting to how the competition would be in college," Liu said. "My teammates helped me a lot, too."
 
The 71 she shot at Landfall Tradition, the Hawkeyes' final event of the fall season, was good motivation for Liu as she prepared for this spring.
 
"That round gave me a lot of confidence, a lot of motivation to keep working hard," Liu said. "By working hard, I'll get the results."
 
Liu and her teammates are competing in the final round of the Westbrook Spring Invitational in Peoria, Ariz., today.  Liu was 47th at the Central District Challenge in Port St Lucie, Florida, and halved her match in the Trilogy Collegiate Quad Matches in Phoenix, Arizona, to kick off the spring season.
 
The golf bug bit Sophie when she was entering her teenage years. Her family moved to a house on a golf course in Vancouver, British Columbia.
 
"I'd go to the pro shop," Sophie said. "They'd give me a used club and let me hit balls there."
 
A novelty soon became a passion.
 
"I think just being alone, and in nature." Liu said. "It's peaceful, walking around by yourself, and I think that's what really got to me."
 
Liu's game developed at a rapid pace. She attended high school in Florida for her junior and senior years.  As a senior, she was the Florida 3A runner-up, losing in a playoff. Her team won a state title in 2014 and was a runner-up in 2015. Liu was named Florida Today's Girls Golfer of the Year as a senior.
 
"Playing on a state-winning team helped prepare me for college," Sophie said. "The more I played, the more I wanted to play. I started playing in tournaments and getting better and better. I knew that's what I wanted to do, to play college golf and play golf for the rest of my life."
 
During her time in Florida, Liu was fortunate to meet Hall of Famer Annika Sorenstam during a stop at her academy.
 
"I was just visiting and she happened to be there that day," Liu said. "It was so special. I got to take a picture with her and talked to her for a few minutes."
 
Sorenstam, who won 10 major championships and 72 LPGA Tour titles during her career, gave Liu some advice she has never forgotten.
 
"So told me there are no shortcuts to success,' Liu said.
 
In addition to high school, Liu had a taste of success on a national stage. She tied for second in 36-hole qualifying at the 2015 U.S. Girls' Junior in Tulsa, Oklahoma, but was upset in the first round of match play.
 
She tied for medalist honors in qualifying for the 2016 U.S. Women's Amateur, shooting 69 at Kensington Golf and Country Club in Naples, Florida. That got her in the field at Rolling Green Golf Club in Springfield, Pennsylvania. She shot 76-73 and missed qualifying for match play by just two shots.
 
Her strong start in the fall didn't surprise Menzel.
 
"Sophie is consistent," Menzel said. "As she continues to refine her game, just little things here and there, and she gets comfortable being at the top of college golf, we're going to see more and more low scores."
 
Liu says the strength of her game is "hitting fairways and greens, and believing in myself. I used to tinker with my swing. But now I've found something that works."
 
Iowa had four players — Amy Ihm, Jessie Sindlinger, Jessica Ip, and Elisa Suarez — break the previous school record for stroke average last spring. Everyone but Ihm is back.
 
"We're happy with some of the things we accomplished last season, but we didn't ultimately accomplish what we feel like we're capable of," Menzel said. "It's going to be a team effort to get to that point."
 
Liu has goals this spring, both for herself and the team.
 
"One of our big goals is to be ranked in the top 50," Liu said. "For me, personally, I want to be ranked in the top 50 as an individual."
 
And thanks to Tina Fey, she'll be doing it at Iowa.