Hawkeye Fan Shop — A Black & Gold Store | 24 Hawkeyes to Watch 2016-17 | Hawk Talk Monthly — March 2017 | SDSU March Mayhem RD1
RANCHO SANTE FE, Calif. – The University of Iowa women's golf team concluded the first day of the SDSU March Mayhem on Monday night at the Farms Golf Club. Iowa fell, 3-2, to the Aztecs in the first round.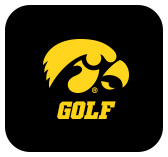 Two Hawkeyes posted wins during the first round. Freshman Sophie Liu and junior Jessica Ip both won their matches two up on the final hole after long fought battles. Liu defeated San Diego State's Fernanda Escauriza, while Ip defeated Haleigh Krause.
 
San Diego State's Georgia Lacey defeated senior Jessie Sindlinger 3-and-2 in the first round of match play, while junior Elisa Suarez fell to Natalie Vivaldi by two with one hole left. Sophomore Krisitin Glense lost 5-and-4 to Sirene Blair.
 
Iowa began round-two action against No. 5 California before play was suspended due to darkness. Play will resume tomorrow at 9:15 a.m. before the third round. Fans can follow along at BirdieFire.com.