Hawkeye Fan Shop — A Black & Gold Store | 24 Hawkeyes to Watch 2016-17 | Hawk Talk Monthly — April 2017 | Round 3 Final Team Results | Round 3 Final Player Results
IOWA CITY, Iowa — The University of Iowa men's golf team finished runner up at the annual Hawkeye Invitational on Sunday afternoon. The Hawkeyes posted back-to-back rounds of 285 (-3) in the second and third rounds for a 54-hole total of 859 (-5; 289, 285, 285).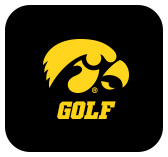 Texas Tech claimed medalist honors after posting a three-round total of 855 (-9). Finishing in third behind the Hawkeyes was No. 43 Kansas at 860 (-4). Iowa State's Nick Voke claimed medalist honors with a 207 (-9; 68, 67, 72).
 
"It was close all day with Texas Tech and Kansas," UI head coach Tyler Stith said. We could never just make up those extra shots. We were three or four back pretty much all day. Overall, I was pretty pleased with how everyone battled back. We made a couple birdies coming down the stretch to move ahead of Kansas and take second."
 
Senior Carson Schaake led the Hawkeyes with a 54-hole total of 211 (-5; 69, 71, 71). Schaake utilized three birdies in round three en route to his one-under-par 71 to finish fourth and solidify his first top-10 and best 54-hole finish of the season.
 
"I'm very pleased with my finish. I haven't been playing that well all year," said Schaake. "This is a tournament I've been looking forward to since the beginning of the season. I played really well, really solid. I made some putts at the right times and clutch shots at the right times."
 
Senior Raymond Knoll and sophomore Matthew Walker finished in a tie for 15th after posting rounds of 73 (+1). Knoll registered two birdies, while Walker carded four. Both Knoll and Walker posted three-round-totals of 217 (+1). Freshman Jack Simpson also fought back to tie Knoll and Walker for a tournament total of one-over-par 217. He posted a season best two-under-par 70 in round three to finish in a tie for 15th along with his teammates. It is Simpson's first top-20 finish of his career.  
 
Freshman Alex Schaake carded a three-round-total of 220 (+4; 75, 74, 71), putting him in a tie for 30th. Schaake fired a one-under-par 71 in round three, utilizing four birdies to tie his season best 18-hole score.
 
Freshman Benton Weinberg led the individuals for Iowa, posting an even par 72 in round three to bring his three-day-total to a season-best 217 (+1). Weinberg finished in a tie for 15th, which is also his first top-20 finish as a Hawkeye.
 
Junior Sam Meuret followed with a 54-hole total of 221 (+5; 70, 74, 77). Meuret finished in a tie for 34th overall. Freshman Ryoto Furuya finished two strokes behind Meuret at 223. Furuya carded rounds of 74, 73, 76 to put him in a tie for 43rd.
 
Freshman Alex Moorman carded a 54-hole total of 227 (+11; 76, 79, 72). Moorman finished tied for 59th. Sophomore Aaron DeNucci rounded out the individuals with a three-round total of 235 (+19; 79, 74, 82). DeNucci finished in 78th.
 
"I don't feel like we played anywhere close to our potential this weekend, and the fact that we were still in contention says a lot about where we are at and where we are going," said Stith. "We have two tournaments coming up, both on golf courses similar to what we just played, so I'm excited for these couple weeks ahead."
 
The Hawkeyes return to action next weekend for the Robert Kepler Invitational in Columbus, Ohio on April 22-23.