IOWA CITY, Iowa — University of Iowa Director of Athletics Gary Barta announced today Barbara Burke has been named Deputy Director of Athletics.  Burke joined the UI athletics staff as Senior Associate Athletics Director for Sport Administration and Event Management last summer. 
Burke joined the Hawkeyes after serving as Deputy Athletics Director/Chief Operating Officer at Tulane University.  Prior to Tulane, she served as the director of athletics at Eastern Illinois for six years.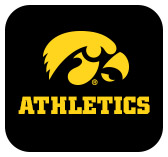 "I've known Barbara for many years and worked with her in the past. We were thrilled when she agreed to join the Hawkeye family a year ago," said Barta.  "She has incredible experience as both an Athletics Director and Deputy Athletics Director. She's a collaborative leader with great passion and is dedicated to helping our student-athletes and coaches succeed."
Burke moved into the position recently vacated by Gene Taylor, who was named athletics director at Kansas State on Friday.  Barta also announced the UI athletics department will immediately begin a national search to fill Burke's previous position.
In her new role, Burke will continue to serve as the UI's Senior Women's Administrator, be involved in all strategic planning, including facility planning and capital projects, and in student-athlete Code of Conduct and discipline.  Burke will continue to serve as the department's primary sport administrator, while assisting with the day-to-day operations of football and men's basketball. 
"I am honored and thrilled to have the opportunity to be part of a great athletics department, and I want to thank Gary Barta and President Bruce Harreld for the confidence they've placed in me," said Burke.  "I look forward to continuing to serve our coaches, staff and student-athletes in my new role.  We have a responsibility to represent our community and the University of Iowa.  I do not take that lightly, and I look forward to the opportunities that lie ahead."
 Burke has gained more than 25 years of experience as a collegiate administrator, including six years as a Division I director of athletics. Prior to joining the Iowa staff, she was responsible for financial and budget management, personnel supervision and management, and assistance with academics, compliance, student support, financial aid, facilities and game-day operations at Tulane.
Prior to Tulane, Burke spent six years (2008-14) as the director of athletics at Eastern Illinois University. During her time with EIU athletics, she created a master plan for the Panthers' athletic department and helped oversee growth in the Panther Club, both in funds raised and membership.
Under Burke's direction, the Panthers captured three Ohio Valley Conference Commissioner's Cups in the five years that the award for overall OVC excellence has been awarded. In 2013, EIU won its third OVC Commissioner's Cup, as the program had six teams win regular-season conference championships, the highest total since EIU joined the OVC in 1996. EIU also claimed the OVC Commissioner's Cup in 2010 and 2011. The other two years, EIU was runner-up in the Cup standings.
Burke spent 10 years at Wyoming (1998-2008), serving in a variety of capacities.  From July, 2006, until leaving for EIU, she was deputy director of athletics and senior women's administrator. In that role, Burke helped oversee strategic planning for the department, as well as the day-to-day operations of Wyoming's 17-sport athletic program.
In addition to her years of service at Wyoming as a senior administrator, Burke served as an athletic administration at the University of Texas at El Paso (1997-98), Marshall University (1994-97) and West Virginia State University (1992-94). During stints at Wyoming and UTEP, Burke was named interim athletics director at the institutions, as both schools transitioned to new directors of athletics.
A member of the National Association of Collegiate Directors of America (NACDA) and Women Leaders in College Sports (formerly NACWAA), Burke has served on numerous athletic committees, including the NCAA Division I Women's Basketball committee (2005-07), Mountain West Conference Championship committee (2004), and Southern Conference Softball Sports/Tournament committee (1995-96). She served as Wyoming's representative on the Mountain West Conference transition team as the new league was formed in 1998.
In September, 2010, Burke was selected to serve on the NCAA Women's Basketball Rules Committee, and was named committee chair in August, 2012. In addition to the NCAA Women's Basketball Rules Committee, Burke served on the NCAA Division I Championship/Sports Management Cabinet, and was a member of the FCS Central Regional Football Advisory committee.
As a student-athlete, Burke was a four-year member of the softball and basketball teams at Western Michigan University (1976-80), leading the Broncos to the Women's College Softball World Series in 1980. She was inducted into the WMU Hall of Fame in 1988.
Burke began her coaching career at Kalamazoo Central High School.  Her first collegiate coaching positions came in 1980, as head softball coach and assistant basketball coach at Tennessee Temple University. She followed that with coaching stops at Clearwater Christian (Florida) College, Cornerstone (Michigan) College, Indiana University Southeast, and West Virginia State College. She was named district coach of the year three times during her softball and basketball coaching career.
Burke earned a bachelor's degree from Western Michigan in 1980, and a master of education degree from the University of Tennessee at Chattanooga in 1984.