Hawkeye Fan Shop — A Black & Gold Store | 24 Hawkeyes to Watch 2016-17 | Hawk Talk Monthly — April 2017 | Robert Kepler Notes
THIS WEEK 
The University of Iowa men's golf team travels to Columbus, Ohio, for the Robert Kepler Invitational this weekend. The two-day, 54-hole event will be played on the Scarlet Course, The Ohio State University Golf Club. 
TOURNAMENT SCHEDULE
Saturday, April 22 — 7:30 a.m. shotgun start (36 holes)
Sunday, April 23 — 7 a.m.-9:06 a.m. tee times from No. 1 & 10 (18 holes)
**all times are central**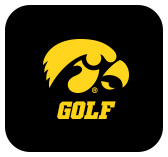 FOLLOW THE ACTION
Fans can follow this weekend's action by visiting golfstat.com or by clicking the live stats link on the men's golf schedule page on hawkeyesports.com. 
LINK UP WITH THE HAWKEYES
For an inside look at the Iowa men's golf program and to access exclusive coverage, "like" Hawkeye men's golf on Facebook and follow @IowaHawkeyeGolf on Twitter and Instagram.
THE FIELD 
Iowa joins a 15-team field that includes Akron (135), Ball State (132), Bowling Green (138), Eastern Michigan (102), Illinois (10), Indiana (124), Kent State (12), Miami (OH) (185), Michigan State (40), Nebraska (145), Northern Illinois (169), Ohio State (61), Penn State (52), Rutgers (182). Iowa is ranked 66th. 
THE COURSE
The 54-hole tournament will be played at The Ohio State University Golf Club, Scarlet Course. The par-71 golf course stretches 7,455 yards and was renovated by Jack Nicklaus in 2006.
THE LINEUP
1. Carson Schaake 2. Matthew Walker 3. Raymond Knoll 4. Jack Simpson 5. Alex Schaake
SCHAAKE SHINES AT HAWKEYE INVITE
Senior Carson Schaake placed fourth at the Hawkeye Invitational, his first top-10 finish of the season. Schaake fired a three-round-total of 211 (-5), including a three-under-par 69 in the opening round.
WEINBERG AND SIMPSON POST TOP-20 FINISHES
Freshmen Benton Weinberg and Jack Simpson each posted their first top-20 finishes in the Hawkeye Invitational. Weinberg and Simpson each posted a 54-hole total of 217 (+1), putting them in a tie for 15th overall. 
LEADER IN THE CLUBHOUSE
Senior Raymond Knoll has been the top finisher for the Hawkeyes four times this season, including top-10 finishes in each of those four tournaments. Knoll also claimed medalist honors at the Chechessee Creek Club Dual with an 18-hole total of 70 (E).It marked the second medalist honor of his career. Knoll's season scoring average of 71.68 is fourth on Iowa's all-time scoring average list. He currently sits behind former Hawkeyes Vince India and Steven Ihm, and current teammate and fellow senior Carson Schaake, who recorded a 71.17 scoring average his sophomore year. 
KNOLL, WALKER, SCHAAKE PRODUCE WINS AT B1G MATCH PLAY
Senior Raymond Knoll and sophomore Matthew Walker each posted three wins in four rounds at the Big Ten Match Play, while freshman Alex Schaake locked up two wins. Schaake fought back from a four-down deficit through 10 holes to knock off Michigan State's Andrew Walker (2-up), before defeating Penn State in the third round. Knoll and Walker also posted wins against Penn State, Indiana, and Minnesota. 
MOORMAN JOINS IOWA LINEUP
The Hawkeyes welcomed redshirt freshman Alex Moorman to the team this winter. The Centerville, Iowa, native transfered from Kansas after making three starts for the Jayhawks and posting a 73.44 average this past fall. Moorman made his collegiate debut at the Maui Jim Intercollegiate posting a 68 (-3) on Sept. 23.  
SCHMID NAMED ASSISTANT COACH
Former University of Iowa student-athlete Jeff Schmid was named interim assistant coach for the Iowa men's golf program in early February. Schmid brings 18 years of professional golf experience and nine years of instruction and coaching experience. He most recently served as a golf instructor and professional at country clubs in Columbia, Missouri.
FALL RECAP 
The Hawkeyes competed in five tournaments last fall, averaging 75.11 strokes-per-round as a team. Senior Raymond Knoll lead the Hawkeyes with a scoring average of 72.06, sophomore Matthew Walker followed close behind at 72.26. Freshman Alex Schaake recorded a top-20 finish at the Paintbrush Intercollegiate, finishing the fall slate with a 73.78 scoring average. 
CLIMBING THE LEADERBOARD
Senior Raymond Knoll leads the Hawkeye squad with a scoring average of 71.72 this season. Knoll has been the top finisher for Iowa at four tournaments this year. Sophomore Matthew Walker follows with 71.96 strokes-per-round and has four top-10 finishes.
Iowa's lowest 18-hole round of the season came on the last day of the Golfweek Conference Challenge (Oct. 2) when the Hawkeyes carded a 284 (-4). Matthew Walker led the team, firing a 66 (-6) — the lowest round of the entire tournament.
Freshman Alex Schaake carded a career best at the Paintbrush Invitational on Oct. 11, posting a 54-hole total of 218 (+2). He climbed 23 spots during his final round, posting a 71 and finishing in a tie for 18th overall. The Paintbrush Invitational was Schaake's second tournament as a Hawkeye. 
TOP-10 FINISHERS
Two Hawkeyes have recorded multiple top-10 finishes during this season. Senior Raymond Knoll and sophomore Matthew Walker both registered top-10 finishes at the Golfweek Conference Challenge. Knoll finished third, while Walker finished in a tie for eighth. The duo also finished in the top-10 at the Gopher Invite with Knoll finishing in fourth and Walker in a tie for seventh. Walker finished in a tie for eighth at the Windon Memorial Classic, while Knoll tied for 18th. This spring Knoll has recorded one tournament top-10 at the Schenkel Invitational where he finished tied for eighth.  He also claimed medalist honors at the Chechessee Creek Club Dual in March. 
3 HAWKEYES ON B1G PLAYERS TO WATCH LIST 
Seniors Raymond Knoll, Carson Schaake, and sophomore Matthew Walker were named to the 2016 Big Ten Men's Golf Preseason Watch List.
Knoll competed in every tournament for the Hawkeyes last year, averaging 73 strokes-per -round. He led Iowa with 10 rounds at par or better in the spring. Knoll finished in the top 20 in four events in the spring, including a fifth-place finish at the Big Ten Championships. 
Schaake — the 2015 Big Ten Champion — averaged 72.97 strokes-per-round in his junior campaign. He finished at or below par in eight rounds and was Iowa's top finisher in each of the last three 2016 spring events. 
Walker competed in every tournament last season, becoming the first true freshman to do so since 1992 (Sean McCarty). Walker averaged 73.33 strokes-per-round in the spring and shot at or below par in eight rounds.  
LEADING THE CHARGE 
Carson Schaake and Raymond Knoll are the lone seniors leading the Hawkeyes this season.  Knoll won the 2015 Golfweek Conference Challenge . He won the prestigious event with a 54-hole total of 205 (-11; 66, 67, 72) — the lowest three-round total in program history. Schaake won the individual Big Ten Championship title as a sophomore in 2015, becoming the third Hawkeye in program history to win a Big Ten Conference Title. 
WALKER MAKES HISTORY
Sophomore Matthew Walker has competed in every event for the Hawkeyes since his freshman year. The Ottumwa, Iowa, native was the first true freshman to compete in every fall tournament for the Hawkeyes since Cole Peevler in 2005. 
8 STRAIGHT NCAA APPEARANCES
Iowa has advanced to NCAA competition in each of the last eight seasons, joining Illinois as the only Big Ten teams selected to NCAA Regional competition in each of the last eight seasons. Iowa has advanced to the NCAA Championship finals three times in the last seven years (2009, 2011, 2012).
CHAMPIONSHIP CONTENDERS
Iowa has won 12 tournaments since 2008 and has had 15 individual medalists since 2009, including Carson Schaake, who was crowned individual co-champion at the 2015 Big Ten Championships and Raymond Knoll who won last year's GolfWeek Conference Challenge.  The Hawkeyes have also had three All-Americans since 2008.
LOOKING AHEAD
Iowa enters the postseason following the Robert Kepler Invitational at the Big Ten Championships in Baltimore, Maryland beginning on April 28.