Hawkeye Fan Shop — A Black & Gold Store | 24 Hawkeyes to Watch 2016-17 | Hawk Talk Monthly — April 2017 | VIDEO — Mar'yea Harris
Editor's Note: The following first appeared in the University of Iowa's Hawk Talk Daily, an e-newsletter that offers a daily look at the Iowa Hawkeyes, delivered free each morning to thousands of fans of the Hawkeyes worldwide. To receive daily news from the Iowa Hawkeyes, sign up HERE.
By DARREN MILLER
hawkeyesports.com
IOWA CITY, Iowa – The first order of business when Joey Woody became director of track and field at the University of Iowa was to get the program's 4×400-meter relay to an elite level. A crucial component to accomplishing that goal was signing Mar'yea Harris.
 
Harris, now a sophomore, grew up in Auburn, Washington, but spent the final two years of high school at two different schools in Long Beach, California. As a junior at Polytechnic, he made it to state in the open 400 and anchored the 4×400 relay to a state championship. As a senior at Wilson, Harris placed fifth in the 400 and anchored the 4×400 to a state championship.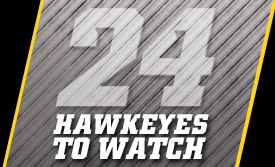 Iowa assistant coach and recruiting coordinator Jason Wakenight touched base with Harris when he was at Polytechnic. As Harris continued to show promise on the track, more college programs showed interest, but he stayed true to his commitment and became a Hawkeye.
 
"We were recruiting him early," said Woody, who became Iowa's director of track and field in 2014. "When he was running fast times later, a lot of teams were calling him, but he stayed loyal to us. That says a lot about the character that Mar'yea has. Ever since he has been on campus he has led by example with his athleticism. He has become a good leader of that event group."
 
Harris is fourth on the Hawkeyes' all-time 400 list with a time of 45.73 seconds set March 31 at the Florida Relays. It ranks 13th in NCAA Division I.
 
He has run on the top three Hawkeye 4×400 relays this season and joined Emmanuel Ogwo, Collin Hofacker, and Carter Lilly to clock 3:30.78 at the Florida Relays on April 1. That is the third-fastest time in school history, currently sixth in NCAA Division I, and tops in the Big Ten.
 
"I thought I would get here, make a couple finals, and establish myself as one of the better athletes in the Big Ten, but I didn't expect to be top two in the Big Ten and one of the best runners in the nation," Harris said. "It shocked me a little bit, but now I know."
 
During his first indoor season, Harris led the Hawkeyes in the 400 (46.83) and placed sixth at the Big Ten Championships. He was Iowa's leading 400 runner during his first outdoor season as well (45.76) and became an honorable mention All-American in the 400 when he finished 18th at the NCAA Championships.
 
It is fun to compete for the people around the state of Iowa. So many people are there to watch Iowa and it is a great atmosphere. — Mar'yea Harris
At the most recent Big Ten Indoor Championships from Feb. 24-25, Harris was runner-up in both the 400 (45.75) and 4×400 relay (3:04.94). He collected two All-America accolades when the Hawkeye 4×400 finished fifth in the nation (3:05.60) and he placed ninth in the 400 (46.52).
 
Woody points to Harris' improvement and placings in major competitions as a steady progression.
 
"He has big goals and wants to make the (outdoor) national championship final," Woody said. "He wants to win the Big Ten Championships. To do that you have to consistently run 45-mid. That will give him a good chance of making the national final, then anything can happen once you make the final."
 
Harris is majoring in sport and recreation management, but if that doesn't work, he could try psychology. After all, he practices the art of deception every time he steps on the track. Harris started wearing glasses when he was in junior high, but he doesn't need them when he competes. Still, he puts them on under a headband for every race. It gives him a psychological boost.
 
"I feel when people race me they are like, 'Oh, he wears glasses, he can't be that fast,'" Harris said. "The headband keeps the glasses on. Not many people wear regular glasses, they wear sports goggles or contacts. I like to set myself aside from everybody else."
 
Reducing junk food and candy has been a secret to Harris' success. The numerous fast-food joints in Long Beach were a vice. So were Sour Patch Kids gummy candy.
 
"It was mainly a health thing," said Harris, who has shed nearly 10 of the 165 pounds he weighed when he enrolled at Iowa. "It is not fun carrying 165 pounds around a track."
 
Harris knows it takes three others to excel in the 4×400 and he credits teammates for individual and group success.
 
"The guys I'm around help me a lot," Harris said. "(Junior) DeJuan (Frye) is a good training partner, he pushes me. As he would say, he is the reason why I'm fast. The 4×4 team has been having a good season, I love those guys. We have been working hard. I love the guys on the team; they help me and keep me focused. We all make each other better."
 
Harris will make his second trip to the Drake Relays from April 27-29 in Des Moines, Iowa. Last season he ran the third leg of the Hawkeyes' winning 1,600 sprint medley relay.
 
"It is fun to compete for the people around the state of Iowa," Harris said. "So many people are there to watch Iowa and it is a great atmosphere."
 
The Hawkeyes debuted at No. 23 in the nation April 24 in the first poll by the United States Track & Field and Cross Country Coaches Association.