Hawkeye Fan Shop — A Black & Gold Store | 24 Hawkeyes to Watch 2016-17 | Hawk Talk Monthly — May 2017 | VIDEO — Brittany Brown
Editor's Note: The following first appeared in the University of Iowa's Hawk Talk Daily, an e-newsletter that offers a daily look at the Iowa Hawkeyes, delivered free each morning to thousands of fans of the Hawkeyes worldwide. To receive daily news from the Iowa Hawkeyes, sign up HERE.
By DARREN MILLER
hawkeyesports.com
IOWA CITY, Iowa — University of Iowa junior Brittany Brown belongs here.
 
Teammate and best friend Alexis Hernandez assured her of that moments before Brown settled into the blocks for a star-studded 200-meter heat race at the Mt. SAC Relays on April 15 in Torrance, California. On the track next to Brown were Olympians English Gardner, Natasha Hastings, Ella Nelson, and Chisato Fukushima.
 
"I was nervous," Brown said. "I told everybody not to watch the race because I might lose."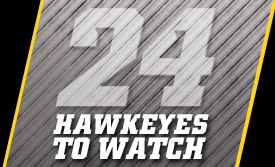 In retrospect, there was nothing to fear.
 
About 10 minutes before the start, Brown received a motivating text from Hernandez: "Don't forget, you belong here."
 
And less than 23 seconds after the starting gun sounded — 22.69 seconds to be exact — Brown crossed the finish line before anyone else in the race. That prompted FloTrack to send a tweet that read: "Upset city! Brittany Brown of Iowa leads three collegians over Natasha Hastings and English Gardner."
 
Yes, Brown belongs among the best sprinters in the United States.
 
"That was comforting to be reminded that I have been out for a while and I have been trying to catch up with everyone else," Brown said. "It was scary (being in a race of that magnitude), but I just stopped thinking and ran."
 
Three collegians, led by Olympian Deajah Stevens of Oregon, bettered Brown's school-record clocking from the second heat.
 
"I wondered how I would have done if I was in that heat," Brown said. "I have (NCAA) regionals and nationals for those races to come."
 
Brown's accomplishment at Mt. SAC is the latest in a string of successes throughout her junior season. During indoor she won a Big Ten championship in the 200 and was runner-up in the 60 with a personal-best time of 7.39 seconds. Brown earned first-team All-America honors in the 200, placing fifth at the NCAA Championships in College Station, Texas.
 
And she is still working herself into prime condition after a hip injury shelved her for all of the indoor and most of the outdoor season in 2016.
 
"I'm probably always going to have hip problems because of the way my body is built," Brown said. "I have FAI (femoroacetabular impingement); I will always have aches and pains in my hips, but my hamstrings seem to be holding up, so everything is going pretty well."
 
Whatever discomfort she is experiencing doesn't show on the track. Brown has become an elite anchor leg, leading the Hawkeyes to their second Drake Relays 4×100 title in three years April 29 with a time of 45.17. She calls it a surreal feeling during relay events: Listening for the gun, watching teammates compete, then taking the handoff from Hernandez. Brown would be pretending if she says she doesn't mind being a smidgen out of first place when she gets the baton.
 
She is one of the best sprinters in the country. She leads by example on the track and builds a lot of confidence in the other girls in the sprint group. It makes them feel like we're one of the best sprint programs in the country. — Joey Woody on Brittany Brown
"I like catching people," Brown said. "When you're a little kid, who doesn't like catching someone? Having that feeling again is rewarding."
 
Brown was raised in Upland, California, and attended nearby Claremont High School, where she was a teammate with former Hawkeye Klyvens Delaunay, an All-American triple-jumper. Brown said college coaches weren't paying much attention to her until she finished runner-up in the 100 and 200 at the 2013 CIF California Outdoor State Track and Field Championships. By that time, most programs had filled their rosters.
 
Brown took a visit to Iowa City and enjoyed the small, college-town feel.
 
"It reminded me of home and the facilities were nice," Brown said. "I liked coach (Clive) Roberts, I enjoyed the program, and I enjoyed my visit."
 
Brown, who turned 22-years-old three days after her performance at Mt. SAC, tried other sports as a youngster, but in basketball, people were too close and she needed space. She wasn't coordinated enough for soccer, which is why Brown said she isn't a hurdler.
 
"I ran track in elementary school for fun," Brown said. "After middle school I stopped, then officially started again in high school. I have been running ever since."
 
Brown made an immediate splash at Iowa, breaking a 31-year-old 60-meter dash record in 7.41 seconds in 2014 (it was reset by Lake Kwaza at 7.33 in 2016). She became the first Hawkeye to run sub-23 seconds in the 200 during the outdoor season and earned All-America honors in the 200 and 4×100 relay.
 
In the 2015 outdoor season, Brown was runner-up in the 200 at the Big Ten Championships and added more All-America recognition by finishing 17th at the NCAA Championships in the 200.
 
This season Brown won a conference championship in the indoor 200 and was runner-up in the 60. Her fifth-place effort at the NCAA Championships was her fourth All-America award and the first time she became a first-teamer.
 
"She is one of the best sprinters in the country," said Joey Woody, Iowa's director of track and field. "She leads by example on the track and builds a lot of confidence in the other girls in the sprint group. It makes them feel like we're one of the best sprint programs in the country."
 
Brown's 200 time of 22.79 — set in the preliminaries at the 2017 Big Ten Championships — bettered Iowa's school record of 23.49 by former national champion and Olympian Kineke Alexander. That race is a highlight of Brown's career.
 
"You can hear me screaming on the video of that race," Brown said. "When I looked at the clock I screamed…I couldn't believe I could run anything under 23 indoors."
 
The championship season is upon Brown and the Hawkeyes. They compete at the Big Ten Outdoor Championships from May 12-14 in State College, Pennsylvania, prior to the NCAA West Preliminary from May 25-27 in Austin, Texas. The NCAA Outdoor Championships are June 7-10 in Eugene, Oregon.