Hawkeye Fan Shop — A Black & Gold Store | 24 Hawkeyes to Watch 2016-17 | Hawk Talk Monthly — May 2017 | Regionals Day 2 Team Leaderboard | Regionals Day 2 Player Leaderboard
BATON ROUGE, La. — The University of Iowa men's golf team sits in 11th place with 18 holes left to play at the NCAA Baton Rouge Regional. The Hawkeyes carded a second-round 312 (+24) Tuesday at The University Club in Baton Rouge. 
 
No. 6 LSU maintained its lead, carding a second-round 296 (+8) to bring its team total to four-under-par (572). No. 19 Duke follows in second at three-over-par (579) for the tournament. 
"The course played more difficult today, but most of our mistakes were self inflicted," said UI head coach Tyler Stith. "We were out of position too much and that's when this course is unforgiving."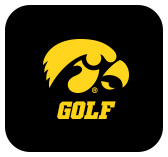 Senior Carson Schaake leads the Hawkeyes with a 36-hole total of 151 (+7; 75, 76). Schaake registered three birdies and 12 holes at par or better during his second round en route to the four-over-par 76. He is tied for 33rd.
 
"Coming into the stretch today I tried to kick it into gear," said Schaake. "I was a little more aggressive, clear minded, and hit more shots at the pin that I probably wouldn't have done yesterday. I felt good, made some putts and a few birdies." 
 
Sophomore Matthew Walker and senior Raymond Knoll are tied for 56th at +13 (157) overall. Walker posted a second-round 80 (+8), while Knoll carded a 78 (+6). Walker registered two birdies and 10 holes at par or better on Tuesday. Knoll utilized 10 holes at par or better, including an eagle of the par-five 17thhole. 
 
"It has been tough to get things going in this tournament," said Knoll. "Seeing the ball going in the hole helps you think a little more positively and gain some momentum. The eagle helped me get things going in a better direction." 
 
Freshman Alex Schaake posted a second-round 88 (+16), bringing his two-day total to 160 (+16; 72, 88). Schaake is in a tie for 65th. Freshman Jack Simpson rounded out the Iowa lineup, registering a 78 (+6). Simpson marked two birdies and 12 holes at par or better to move his two-day total to 163 (+19; 85, 78). He is tied for 68th.
"Tomorrow we need to be more focused and much sharper in our execution," added Stith. 
 
The Hawkeyes return to The University Club Wednesday for the final 18 holes with tee times off No. 1 and 10 beginning at 7:30 a.m. (CT). Live scoring is available at golfstat.com.