Hawkeye Fan Shop — A Black & Gold Store | 24 Hawkeyes to Watch 2016-17 | Hawk Talk Monthly — May 2017
IOWA CITY, Iowa – Three University of Iowa women's golfers – juniors Morgan Kukla and Jessica Ip and sophomore Shawn Rennegarbe—received honors at the team's annual awards banquet on May 7.
The Hawkeyes put their name in the Iowa record book seven times this season. Their spring season scoring average of 76.0 marked the second-lowest team average in school history.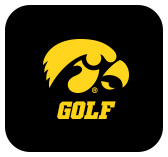 Kukla received the awards for "Most Improved" and "Team Player." Kukla acted as a solid component of the Hawkeye lineup this year, competing in seven competitions. Her season was highlighted by career-lows at the Landfall Tradition and the Hawkeye El-Tigre Invitational. The junior fired a one-under-par 71 at the Hawkeye El-Tigre Invitational to finish 28th, and carded a 224 (+8) to finish 33rd at the Landfall Tradition.
The award for "Positive Leadership" went to Rennegarbe. This award is given to a Hawkeye that embodies an upbeat attitude and holds their teammates to the same standards.
Rennegarbe joined the Hawkeyes this season after transferring from the University of Arkansas and competed in eight tournaments throughout the year. The sophomore posted a career-low of 227 (+11) on 54-holes at the Landfall Tradition, and fired a career-low 18-hole round of 74 twice this season at the Landfall Tradition and the Westbrook Spring Invitational.
Ip was honored with the "Iron Hawk" and "Most Valuable Player" awards. The Iron Hawk Award is presented by strength and conditioning coach Bill Maxwell to the golfer who trains the hardest in the weight room.
Ip competed in every tournament this season and registered the lowest stroke average on the team of 74.9. The junior registered four top-20 finishes this season, placing second at the Red Raider Invitational (-1; 215), fifth at the Entrada Classic (+3; 216), 12th at the Big Ten Championships (+5; 221), and 16th at the Westbrook Spring Invitational (E; 216).
Ip put her name in the Iowa records books with the second-lowest 18-hole score in Iowa history with two rounds of 68 this season. Her 54-hole scores of 215 and 216 also rank in the top-10 in school history.
Senior Jessie Sindlinger was also honored at the banquet for her four years of dedication and leadership. The senior competed in every tournament this season, marking a stroke average of 76.5 and earning two top-20 finishes. Sindlinger will continue her golf career as the assistant women's golf coach at Northern Iowa next year. She is also working towards earning her PGA Card in order to be an assistant golf professional at the Pheasant Ridge Golf Course.