Hawkeye Fan Shop — A Black & Gold Store | 24 Hawkeyes to Watch 2016-17 | Hawk Talk Monthly — May 2017
Editor's Note: The following first appeared in the University of Iowa's Hawk Talk Daily, an e-newsletter that offers a daily look at the Iowa Hawkeyes, delivered free each morning to thousands of fans of the Hawkeyes worldwide. To receive daily news from the Iowa Hawkeyes, sign up HERE.
 
By CHRIS BREWER
hawkeyesports.com
 
IOWA CITY, Iowa — Just 10 days ago you'd call Laulauga Tausaga a student of the game or a work in progress.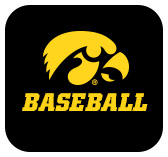 Today, she goes by Big Ten champion and NCAA qualifier.
 
Tausaga, a freshman from Spring Valley, California, became the first female in program history to win a gold medal in the discus at the Big Ten Championships on May 13, and in five days, she'll make her NCAA Championships debut as the No. 7 seed at the NCAA Division I Track and Field West Preliminary in Austin, Texas.
 
"At Big Tens I wanted to go in and score points. I didn't realize I was in a position to win until my second round," Tausaga said. "When I won, I was still in shock. I thought, 'Did I just do that?' It was exciting to get to the podium and score my team points. I'm hoping to have the same focus this week."
 
University of Iowa assistant coach Andrew Dubs discovered Tausaga at the California high school state meet in 2015. He was in attendance to support one Hawkeye recruit, but quickly went to work on securing a second.
 
"I was there watching (current Hawkeye) Nia Britt compete as a senior when I saw Laugi," Dubs said. "She was competing as a junior and I thought to myself, 'Wow this girl is an athlete.'"
 
Athletic, yes. Technically sound, no.
 
Tausaga's natural talents carried her through high school. She was a four-time conference champion, team MVP, and graduated with school records in discus and shot put.
 
But after committing to Iowa and arriving on campus last fall, she learned athleticism alone would no longer be good enough.
 
"When I came my form wasn't the best and I struggled with ups and downs," Tausaga said. "There were times I'd get into a funk and my body wouldn't do what I needed it to in the ring."
 
There was struggle, but by the time the outdoor season warmed up, there was also progress.
 
"It was up and down a lot, but throughout the training she showed signs that she could be elite," Dubs said.
 
Those signs showed up on the track in the second meet of the outdoor season. Tausaga was thrown into the elite field at the Florida Relays and responded with a school-record performance, tossing 56.1 meters and placing fourth.
 
"At the time I didn't know if she deserved to be in the elite section, but she showed up," Dubs said. "The better the competition, the better she has been. She has shown to be a gamer in college."
 
With her technique improving and mindset as focused as it has ever been, Tausaga has her sights set on a top 12 performance in Austin and a trip to the NCAA finals in Eugene, Oregon, on June 10.
 
"That would be very exciting," Tausaga said. "Right now I'm glad that my season isn't over and there is more to do."
 
Twenty-five Hawkeyes qualified for the NCAA Division I Track and Field West Preliminary that begins Thursday at Mike A. Meyers Stadium. Tausaga competes in the discus Friday at noon (CT). The three-day meet is streamed online at texassports.com/watch.