Hawkeye Fan Shop — A Black & Gold Store | 24 Hawkeyes to Watch 2016-17 | Hawk Talk Monthly — May 2017 | Photo Gallery (Friday) | Photo Gallery (Thursday)
Editor's Note: The following first appeared in the University of Iowa's Hawk Talk Daily, an e-newsletter that offers a daily look at the Iowa Hawkeyes, delivered free each morning to thousands of fans of the Hawkeyes worldwide. To receive daily news from the Iowa Hawkeyes, sign up HERE.
By DARREN MILLER
hawkeyesports.com
AUSTIN, Texas — University of Iowa All-American juniors O'Shea Wilson and Jahisha Thomas jumped for joy Thursday as they long-jumped their way into the month of June.
 
Both Hawkeyes placed eighth in their respective competitions at the NCAA West Preliminary inside Mike A. Myers Stadium. Wilson leaped 7.75 meters (25 feet, 5 ¼ inches) and Thomas went 6.35 (20-10). The next stop is Eugene, Oregon, and the NCAA Championships from June 7-10.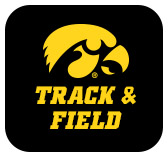 Wilson, who grew up three hours away from Mike A. Myers Stadium in Houston, was the first Hawkeye to compete at the NCAA Preliminary and he responded with a personal best. More importantly, he had three successful attempts after fouling all three times in his most recent outing at the Big Ten Championships on May 13.
 
"The biggest thing with O'Shea was getting on the board," said Clive Roberts, Iowa's associate head track and field coach. "He is a phenomenal jumper and athlete, but it was just getting him on the board. Once he did that, I felt confident he was going to be able to make it through."
 
Wilson's second jump was sixth-best in Iowa history after going 7.68 on his first attempt and 7.49 on his third.
 
Wilson is no stranger to track and field postseason: As a freshman in 2014, he advanced to the NCAA Preliminary in the 100, 200, 4×100 relay, and long jump. He has been to the NCAA Indoor Championships twice, placing 15th in the long jump March 10 in College Station, Texas.    
 
"It felt great getting some marks (Thursday)," Wilson said. "I'm on my way to Eugene, so I'm happy. I wanted to be technically sound, hit the board, get my knees up, and finish my jumps."
 
For Thomas, advancing in postseason competition is also a familiar tune. The native of London, England, placed 13th at the 2017 NCAA Indoor Championships in the long jump (20-3) after finishing 15th at the 2016 NCAA Outdoor Championships (20-2 ¼). She qualified for the outdoor NCAA Preliminary as a freshman in 2015.
 
"I expected that to happen (for Jahisha)," Roberts said. "She has been here before both indoors and outdoors."
 
The effort by Thomas was an outdoor best, topping her previous record of 20-9 by an inch. Her indoor best is 20-11. She now sits second on Iowa's all-time outdoor list behind Aisha James, who jumped 22-3 in 2003.
 
Jumpers are allowed just three attempts in the preliminary round (instead of earning three more in finals); that made Thomas restless, especially since she fouled on her first try.
 
"I normally get better throughout the series, so usually my fourth, fifth, or sixth jumps are my best ones," Thomas said. "I knew I had to do that in three, so to foul on the first one was not a great start; I needed to pull it together much quicker than before."
 
This is the first time the Hawkeyes have had a men's and women's long jumper qualify for the same NCAA championship.
 
"We're Iowa, this should be the norm," Roberts said. "We're in a Power Five conference, our administration does a great job supporting us, so that should be an expectation year-in and year-out. There should be a large contingent and this is just a start."
 
Iowa enjoyed another strong showing at the NCAA West Preliminary on Friday. The Hawkeyes advanced freshman Laulauga Tausaga in the women's discus and sophomore Mar'yea Harris in the men's 400-meter dash.
 
The men's long jump final at the NCAA Championships is June 7 at 8 p.m. (CT). The women's long jump final is June 8 at 8 p.m.
 
"It's been three years since I've been to Eugene," Wilson said. "I'm ready to go back."
 
"I don't just want to participate, I want it to be great," Thomas said. "I want to make an impact and represent Iowa well."