Hawkeye Fan Shop — A Black & Gold Store | Hawk Talk Monthly — May
IOWA CITY, Iowa — University of Iowa Director of Athletics Gary Barta announced today that Marcus Wilson has been named Senior Associate Director of Athletics.  Wilson joins the Iowa staff after most recently serving as Senior Associate Athletic Director and Chief Administrative Officer at the University of Maryland.
"We are extremely excited to add Marcus Wilson to our athletics senior staff," said Gary Barta, UI director of athletics.  "Marcus possesses an impressive background in administration at the highest levels of intercollegiate athletics.  He's gained valuable experience within the Big Ten Conference, and has the added perspective of having worked in the NCAA national office and competed as a student-athlete.   His leadership and organizational skills make Marcus a great addition to the Hawkeye Family."
In his position with UI athletics, Wilson's responsibilities will include general internal operations and sport supervision.  He will officially join the Hawkeye staff on July 5.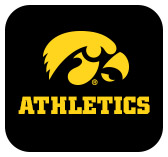 "I am truly grateful for the opportunity to join the coaches and staff at the University of Iowa. I look forward to building great relationships with the University community. I want to thank Director of Athletics Gary Barta and Deputy Athletics Director Barbara Burke for providing me with this opportunity," said Wilson.  "I also want to thank University of Maryland Athletic Director, Kevin Anderson, for the leadership and mentorship he has provided me during my time in College Park.  My wife, Kat, and I are excited to be a part of the Hawkeye community."
As a member of the executive leadership team at Maryland, Wilson oversaw the Program Support & Integrity sector of the department. In that role, he led the sports administration, compliance, sports performance, equipment and health & wellness staff.  In addition, Wilson served as an athletic department representative on the University's Athletic Council, and served as the sport administrator for the men's and women's soccer programs.
Under Wilson's leadership, the University of Maryland announced the "Maryland Way Guarantee" and became one of the first NCAA Division I institutions to offer a lifetime degree guarantee for students in all sports.
Wilson joined the Maryland staff in 2013 as the Senior Associate Athletic Director for Compliance before being named Chief Administrative Officer in 2016.  Wilson previously spent five years with the National Collegiate Athletic Association (NCAA) in Indianapolis. Among Wilson's myriad of responsibilities, he oversaw the development and investigation of NCAA legislation involving the sport of college football. Wilson originally joined the NCAA in 2008 and served his first three years as Assistant Director of Agent, Gambling and Amateurism Activities.
Prior to working with the NCAA, Wilson served as an assistant district attorney for the state of North Carolina from 2006-08. He earned a Bachelor of Arts in Journalism and Mass Communications from the University of North Carolina in 2003, and earned a J.D. from the University of North Carolina School of Law in 2006.
As a student-athlete, Wilson lettered three seasons with the North Carolina football program.  He was a member of the ACC Academic Honor Roll from 2000-03.  In addition, he was named the recipient of the University of North Carolina Athletic Director's Scholar-Athlete Award in 2003.