Hawkeye Fan Shop — A Black & Gold Store | 24 Hawkeyes to Watch 2016-17 | Hawk Talk Monthly — May 2017
By DARREN MILLER
hawkeyesports.com
EUGENE, Oregon — There are 15 University of Iowa track and field athletes scheduled to compete at the NCAA Championships from Wednesday to Saturday at Hayward Field. They will see plenty of familiar faces in their heats or flights when competition begins and Hawkeye head coach Joey Woody doesn't want them getting too hyped for this season finale.
 
Now is the time to relax and focus.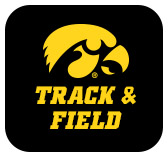 "The biggest thing is not making this bigger than what it is," Woody said. "It's just another meet; we're competing against the same athletes we have competed against this entire season. For us, it's going in with the same mindset we have had all year and staying focused on executing the race or event. If you go out and execute, I think we will do well."
 
The Hawkeyes had a nine-hour travel day Sunday. They began bussing from Iowa City to the Omaha Airport at 9 a.m. (CT). After five hours on a bus, they chartered a flight with Florida and Nebraska, landing at the Eugene Airport at approximately 4:12 (PT).
 
Iowa is represented at the NCAA Championships in relays, multi-events, on the track, and in the field.
 
"It's nice coming here and having a big group of athletes that are ranked high in a lot of different event areas," Woody said. "It shows what type of comprehensive track and field program we want to have, not only at the Big Ten level, but at the NCAA level.
 
"Our goal is to get more athletes to this meet and then get them to score here, become first-team All-Americans, and help our team be a top 10 team."
 
Based on times and distances from the NCAA West Preliminary in Austin, Texas, the Hawkeyes enter the NCAA Championships with five events ranked in the top three. Senior Aaron Mallett has the fastest qualifying time in the 110-meter hurdles (13.36 seconds) and sophomore Reno Tuufuli has the best throw in the discus (62.06 meter, 203-feet 7-inches). The men's 4×400 relay of freshman Emmanuel Ogwo, sophomore DeJuan Frye, freshman Collin Hofacker, and sophomore Mar'yea Harris has the second-fastest time of 3:02.57.
 
On the women's side, junior Brittany Brown owns the third-fastest 200 dash (22.33) and freshman Laulauga Tausaga has the third-best effort in the discus (59.37 meters, 194 feet, 9 inches).
 
"We have to do what we did at the NCAA first round," Woody said. "Everybody that was expected to make it made it here. Now our goal is to make the final. Hopefully we can push it a little bit in a couple event areas where we are just on the outside looking in of that top eight. If we get everybody through that we expect to get through, I think we will be pretty happy."
 
Just like last season, Iowa opens the NCAA Championships with junior decathlete Will Dougherty in the 100-meter dash on Wednesday at 2:30 p.m. (CT). Last season Dougherty was injured during the high jump (fourth event), but completed three events more before withdrawing.
 
Wednesday will be the busiest day for the Hawkeyes. Dougherty will complete five of 10 events in the decathlon, along with men's semifinals in the 4×100 relay (6:32 p.m.), Mallett in 110 hurdles (7:32), junior O'Shea Wilson in the long jump (8), Harris in the 400 dash (8), and the 4×400 relay (9:48). Dougherty will complete the decathlon Thursday, the same day the women's competition begins.