Hawkeye Fan Shop — A Black & Gold Store | 24 Hawkeyes to Watch 2016-17 | Hawk Talk Monthly — June 2017
IOWA CITY, Iowa — Seven University of Iowa swimmers and divers were honored by the College Swimming and Diving Association (CSCAA) as Scholar All-Americans, it was announced Wednesday by the CSCAA.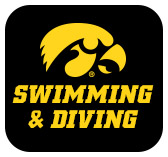 Senior Brandis Heffner, juniors Colter Allen, Megan Lavelle, and Jerzy Twarowski, and sophomores Kelly McNamara, Kenneth Mende, and Jacintha Thomas earned honorable mention Scholar All-America honors.
 
The Scholar All-America distinction recognizes student-athletes that have achieved a grade point average of 3.50 or higher and have participated in their NCAA Championships.  The honorable mention Scholar All-America honorees have similarly posted a GPA of 3.50 or higher and achieved a "B" time standard or competed at a regional or zone qualifying meet.
 
Allen posted an NCAA "B" qualifying time in the 100 fly (47.98), Heffner competed at the NCAA Zone D Diving Championships off the 1-meter and 3-meter, Mende swam to "B" times in the 100 back (47.28), 200 back (1:42.19), and 200 IM (1:48.57), and Twarowski in the 100 (46.43) and 200 fly (1:46.47).
 
Lavelle swam to NCAA "B" cut times in the 100 (53.74) and 200 (1:58.35) back events, while McNamara posted a "B" time in the 100 fly (54.28). Thomas paced the team off the 1-meter (295.70) and she competed in two events at the Zone D Championships.
 
Collectively, the women were selected as a Scholar All-America team for the 2017 spring semester.  The Hawkeyes posted a 3.29 team GPA.